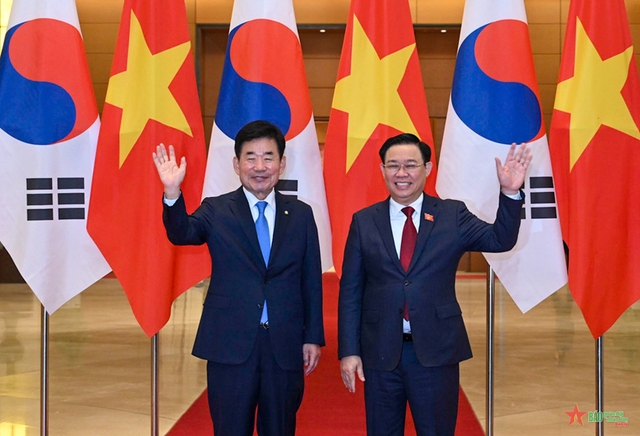 The two sides reached the above agreement during talks in Ha Noi on January 17 on the occasion of an official visit of Speaker of the Republic of Korea (RoK)'s NA Kim Jin-pyo to Vie Nam from January 12-18.
Chairman Vuong hoped that the visit will contribute to strengthening the relations between the two countries in general and the two parliaments in particular.
The top Vietnamese legislator emphasized that strengthening political and diplomatic trust will be the foundation to promote cooperation in other fields such as economics, trade, investment, and people-to-people exchanges.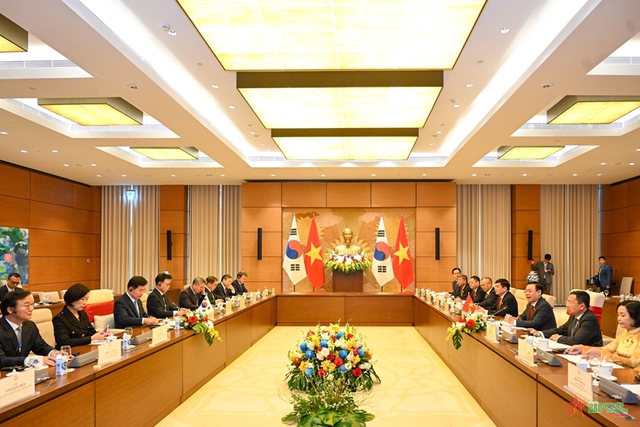 On the basis of the recent upgrading of the bilateral relations to a "Comprehensive Strategic Partnership" status, the two sides also agreed to expand cooperation in technology transfer, human resources training, and defence technology.
Vuong suggested the RoK continue assisting Viet Nam in overcoming post-war consequences, including the project on the Viet Nam-Republic of Korea peace village for the 2022- 2026 period.
The pair agreed to achieve the goal of raising the two-way trade to US$ 100 billion by 2023 and US$ 150 billion by 2030 in a more sustainable and balanced manner on the basis of making the most of existing bilateral and multilateral trade agreements.
In reply, Speaker Kim agreed with his Vietnamese counterpart's proposals on the increase in the number of Vietnamese workers in the RoK such as skilled labourers, nurses, and information technology engineers.
The top Korean legislator backs Viet Nam's stance on ensuring security, safety and freedom of navigation and aviation in the East Sea in accordance with international law.
The two sides were unanimous in maintaining the exchange of delegations at all levels, promoting the sharing of experience in law making, supervision and making decisions on important maters, and listening to the business communities and people of both countries in order to create a favourable legal environment for economic cooperation, cultural exchange and citizen protection.
The same day, Speaker Kim, his spouse and the RoK delegation laid a wreath in tribute to late President Ho Chi Minh at his Mausoleum./.