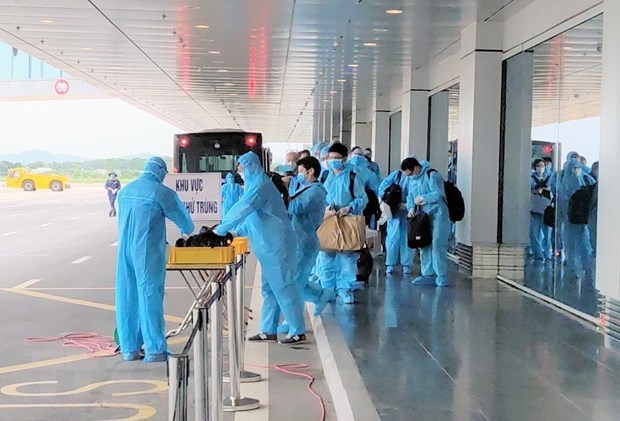 Viet Nam records first COVID-19 death
The patient, the 428
th
COVID-19 case in the country (hereinafter referred to as Patient 428), was hospitalized at the Department of Nephrology and Urology (Da Nang General Hospital) on July 9 after being diagnosed with the end-stage renal disease, and had been undergoing hemodialysis earlier.
The patient had a history of hypertension, cardiac ischemia, heart failure, and pneumonia. He had been sampled and confirmed positive for SARS-CoV-2 on July 27.
Assoc. Prof. Dr. Luong Ngoc Khue, Director of the MOH's Medical Examination and Treatment Department, said that Patient 428 was transferred from Da Nang General Hospital to Hue Central Hospital on July 30 for treatment. Viet Nam's leading experts held consultations six times and offered active treatment for the patient, but he could not survive COVID-19 due to his severe underlying diseases. The man had chronic renal failure and had been undergoing hemodialysis every two weeks for the past decade.
"The MOH's specialised council has urgently conducted a consultation to learn from the case and review the whole treatment process for the patient. Patient 428 had severe underlying pathological factors, old age and a poor prognosis. His physical conditions had been depleted following 10 years of hemodialysis. He died after a heart attack. The patient had underlying diseases in terms of blood pressure, cardiac ischemia, end-stage renal and heart failure, and pneumonia caused by COVID-19," Khue said.
He stated that it was reasonable to move the patient to Hue Central Hospital for focused treatment.
As of July 31 morning, Viet Nam recorded 509 confirmed COVID-19 cases with one fatality. Specifically, the recent outbreak in Da Nang reported 80 infections, including eight medical workers, 44 patients, 26 patients' relatives and two community cases (Patients 420 and 434).
Today alone, the country registered an additional 45 cases, who had been quarantined at medical establishments and sampled for SARS-CoV-2 testing earlier. As many as 13 new COVID-19 cases have been confirmed in five cities and provinces nationwide, including Quang Nam (7), Quang Ngai (1), Ho Chi Minh City (2), Ha Noi (2) and Dak Lak (1). All these patients are linked to the outbreak in Da Nang.
By Hoang Ha