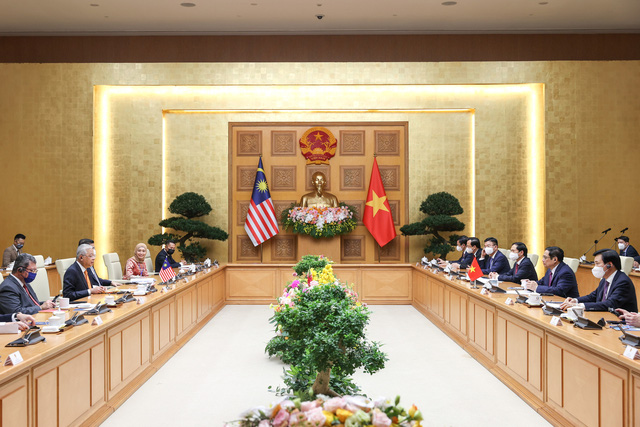 The two Prime Ministers expressed their belief that the move will facilitate the safe and regular commercial travel between both countries.
Viet Nam has reached agreement on mutual recognition of vaccine passports with 17 countries, namely the U.S., the UK, Japan, Australia, Belarus, India, Cambodia, the Philippines, Maldives, Palestine, Turkey, Egypt, Sri Lanka, New Zealand, Singapore, Saint Lucia and the Republic of Korea, according to Foreign Ministry Spokesperson Le Thi Thu Hang.
Speaking at the summit meeting, Prime Minister Ismail Sabri said Malaysia always gives high priority to strengthening cooperation with Viet Nam – the only strategic partner of Malaysia in Southeast Asia.
The two Prime Ministers reiterated their resolve and agreed on major orientations to foster cooperation on all fields in favor of the two countries' post-COVID pandemic recovery, through the exchange of delegations at all levels, promoting the role of bilateral cooperation mechanisms, and fruitfully implementing the action program for the Viet Nam-Malaysia strategic partnership in the 2021-2025 period.
They agreed to soon realize the trade goal of US$18 billion or higher by 2025 in a balanced manner, and work together to mull over a mechanism on information sharing regarding trade remedies.
Prime Minister Pham suggested Malaysian firms strengthen footholds in such areas as supporting industries, high-quality infrastructure, innovation, high technology and information technology application in digital transformation.
Both sides spoke highly of the practical outcomes in defense and security cooperation and agreed to push for early signing of a memorandum of understanding on bilateral defense cooperation while enhancing cyber security and maritime cooperation.
On multilateral aspect, the two Prime Ministers highly valued the two countries' close coordination at international and regional forums, pledging to join hands in building a united ASEAN and promote the bloc's role in addressing emerging issues in the region.
Regarding the East Sea issue, the two leaders agreed to strengthen communication and stance coordination, and called on parties concerned to exercise restraint, neither use nor threaten the use of force, comply with international law including the 1982 United Nations Convention on the Law of the Sea.
They underlined the importance of full and effective implementation of the Declaration on the Conduct of Parties in the East Dea (DOC) and early conclusion of a substantive and effective Code of Conduct (COC) in line with international law, including the UNCLOS 1982.
After talks, Prime Minister Pham Minh Chinh and his Malaysian counterpart Ismail Sabri witnessed the exchange of four cooperation documents including a Letter of Intent on Cooperation between the two Diplomatic Academies of the two foreign ministries, a Memorandum of Understanding on legal cooperation between the two Governments, a Memorandum of Understanding on recruitment, employment and repatriation of guest workers between the two Governments, and a cooperation agreement between the Viet Nam News Agency (VNA) and the Malaysian National News Agency (Bernama)./.