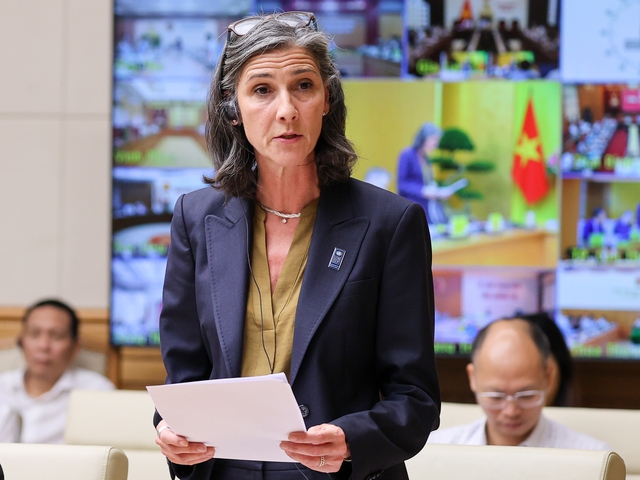 Ramla Khalidi made the above statement while attending the conference on the development of synchronous, effective, modern and integrated science and technology market in Viet Nam, which took place in Ha Noi on September 23.
According to the 2021 WIPO Global Innovation Index, the nation leads the group of lower middle-income countries, ranking 44 out of 132 countries with more than 18,500 scientific and technological discoveries, noted the UNDP Resident Representative Designate in Viet Nam.
Viet Nam aspires to become an upper middle-income country with a modern industrial base by 2030, and a high-income developed country by 2045. Science and technology are central to this vision as catalysts for a prosperous, knowledge-based economy.
Since the Doi Moi reforms were implemented in 1986, the country achieved rapid and sustained economic growth, at an average of 7 percent.
More impressive than the growth rate, Viet Nam has seen the reduction of extreme poverty and low levels of economic inequality.
The nation's broad-based development has avoided the explosive rise in inequality, seen in other countries, propelling steady progress toward achieving the Sustainable Development Goals (SDGs) by 2030, she emphasized.
A regulatory environment that supports, stimulates innovation is needed
According to Ramla Khalidi, people face unprecedented challenges such as the COVID pandemic, the climate crisis, biodiversity loss, and extreme pressure on fragile agricultural systems. Directed well, science and technology can help solve some of these problems.
Creating a regulatory environment that supports and stimulates innovation is a big challenge, in Viet Nam as elsewhere. Achieving greater consistency in policies and regulations across government agencies, and between central and local levels, is a priority.
Many government agencies are involved in developing and implementing science and technology policies. However, regulations are sometimes overlapping, inconsistent or even contradictory. This creates a regulatory maze that can stifle innovation and raise the cost of bringing new ideas to market.
Policy experiments can help identify gaps and inconsistences in existing policies and market requirements, recommended Ramla Khalidi.
UNDP has implemented experiments in the central city of Da Nang with the circular economy road map, and in Hue City, in the central province of Thua Thien-Hue, on improving access for citizens to e-governance and another experiment on Green Transportation.
Similar approaches should be used to solve specific challenges in sci-tech market development, and the results applied more widely.
Investment in research and development (R&D) is a key driver of sustainable development. Ensuring financial investments whether public or private are strategic and coherent helps avoid inefficiencies and fragmentation.
However, innovation shouldn't be confined to high-tech parks, large firms, or international corporations. Cooperation between scientists and grassroot innovators is equally important to promote needs-based instead of paper-based research.
During the pandemic, people witnessed many innovations by smaller actors with high scalability potential to solve pressing socio-economic-environmental problems.
Grassroots innovators helped ease the burden of the lockdown, by creating "rice ATMs", applying robotic technology, and creating apps to connect those providing services with those who need it.
Take the case of Minh Hong Biotech, a company supported by UNDP that adopts the circular economy business model by converting organic waste into household cleaning products.
The project developed into a business with a mission to reduce environmental pollution and provide job security for poor households. Today, the group processes about 109 tons of waste to produce 50,000 liters of cleaning products a month, and have created decent jobs for more than 400 women.
The Government's policy on developing national and regional innovation and startup centers emphasizes the importance of science education and closer relationships between public and private research institutions and enterprises.
Such an Open Innovation system requires an enabling innovation culture where taking-risks and accepting failure is encouraged, particularly in the public sector. The public sector needs to create a supportive environment to encourage innovative behaviors for public servants and enterprises alike.
In this regard, UNDP has been actively working with early adopters such as the National Innovation Center (NIC) and the National Agency for Technology Entrepreneurship and Commercialization (NATEC), to advise their strategy, design a monitoring and evaluation (M&E) framework and build capacity for public sector innovation.
Ramla Khalidi expressed great appreciation for the strong commitment of the Viet Nam government to advance the country's science and technology market, hoping that this transition will contribute towards a green, sustainable, and prosperous future for people and planet, while leaving no one behind.