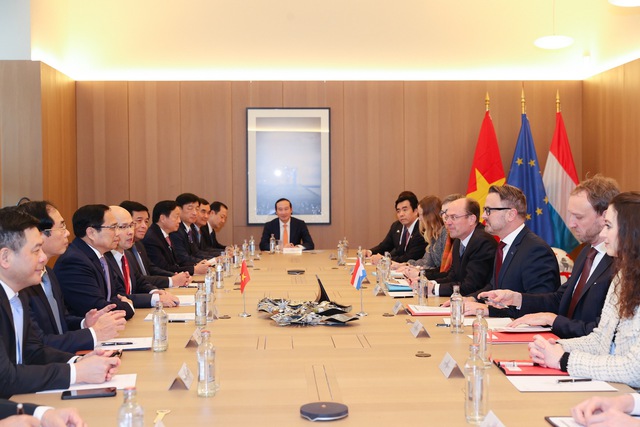 The agreement was reached by Vietnamese Prime Minister Pham Minh Chinh and Luxembourger Prime Minister Xavier Bettel during their talks on Friday.

The two Prime Ministers urged authorities and businesses of the two countries to fully implement the EU-Viet Nam free trade agreement (EVFTA), step up logistics connectivity in a bid to facilitate trade exchanges between EU and ASEAN markets, and sign a bilateral agreement on double taxation avoidance.
Prime Minister Pham suggested Luxembourg facilitate the entry of Vietnamese goods into Luxembourg and other EU member countries while encouraging Luxembourger businesses to increase investment in such fields like strategic infrastructure, digital transformation, renewable energy, and pharmacy.
He asked Luxembourg to help Viet Nam in building a financial center in Ho Chi Minh City and support the European Commission's early removal of yellow card on Vietnamese seafood exports.
Pham also called on Luxembourg to provide financial and technological assistance for Viet Nam to develop the renewable energy industry and implement climate change adaptation projects, particularly in the Mekong Delta – the biggest rice hub in Viet Nam.
The two sides compared notes on regional and international issues of shared interest, affirming their resolve to continue collaboration and mutual support at multilateral and international forums such as ASEAN-EU, ASEM, the United nations, and the United Nations Human Rights Council.
On the East Sea issue, both sides reaffirmed the importance of ensuring peace, stability, security, safety and freedom of navigation and over-flight in the East Sea without resorting to the use or threat of force, of settling disputes through peaceful measures in line with international law, particularly the 1982 United Nations Convention on the Law of the Sea.
Pham took the occasion to invite Prime Minister Xavier Bettel to visit Viet Nam in 2023 as both countries are expected to mark the 50th founding anniversary of their diplomatic ties./.