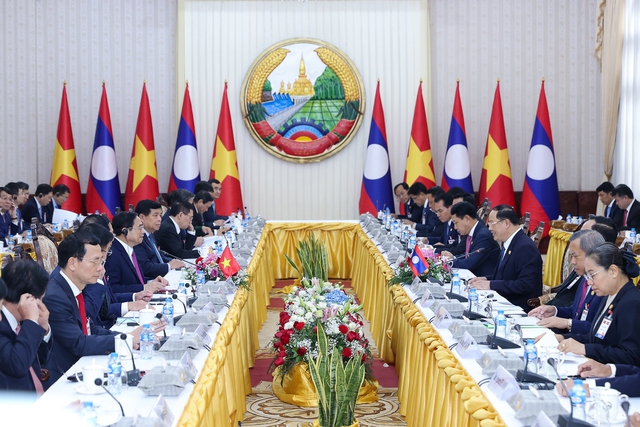 Vietnamese Prime Minister Pham Minh Chinh and his Lao counterpart Sonexay Siphandone held summit meeting in Vientiane on January 11, as part of the former's two-day official visit to Laos.
During the meeting, PM Pham expressed his elation at the first official visit to Laos as the Vietnamese Government chief and the first guest of Prime Minister Sonexay Siphandone.
PM Pham conveyed the greetings of Party General Secretary Nguyen Phu Trong, President Nguyen Xuan Phuc, and National Assembly (NA) Chairman Vuong Dinh Hue to the Lao PM.
The Vietnamese cabinet leader congratulated Laos on its COVID-19 containment efforts and socio-economic recovery and development. Pham said he believes that Laos will continue to successfully implement the goals of the 9th five-year socio-economic development plan.
PM Sonexay Siphandone, in turn, conveyed the greetings of General Secretary of the Lao People's Revolutionary Party and President of Laos Thongloun Sisoulith and Chairman of the country's National Assembly Saysomphone Phomvihane to Vietnamese leaders.
He congratulated the great and comprehensive achievements Viet Nam has recorded in the cause of national construction, development and international integration, especially the rapid recovery and socio-economic development after the pandemic that has helped raise the nation's role and position in the international arena.
The two sides noted with satisfaction the strong development of bilateral cooperation in all fields with increasing political trust.
During the past year, they exchanged many delegations via all channels, while continuing to promote the effectiveness of bilateral cooperation mechanisms, and successfully organizing hundreds of major activities as part of the Year of Friendship and Solidarity between Viet Nam and Laos in both countries.
Notably, economic, trade and investment cooperation has been increasingly promoted. Trade was a bright spot last year with the total bilateral turnover reaching nearly US$1.7 billion, up more than 21 percent compared to 2021.
The two PMs agreed to continue to constantly consolidate political trust, step up security, defence and economic cooperation, support each other in recovering from the pandemic, build a socialist-oriented market economy, and ensure independence, self-reliance, associated with extensive and effective international integration.
They also underlined the need to continue working together to improve the business and investment environment; strengthen the effective connection between the two economies in order to maintain stable trade growth of 10-15% per year or more.
This is addition to constantly expanding investment cooperation, improving the effectiveness of cooperation in education and training, justice, science and technology, culture, tourism, people-to-people exchanges and cooperation among localities, especially those in border areas.
Both sides consented continue augmenting cooperation in information and communication, and paying greater attention to educating both nations' young generations about the tradition of special relations between Viet Nam and Laos.
Regarding regional and international issues of shared concern, the two sides concurred to boost closer coordination, enhance information exchange, and offer mutual support at regional and international multilateral forums, especially at the United Nations, ASEAN and sub-regional cooperation mechanisms./.