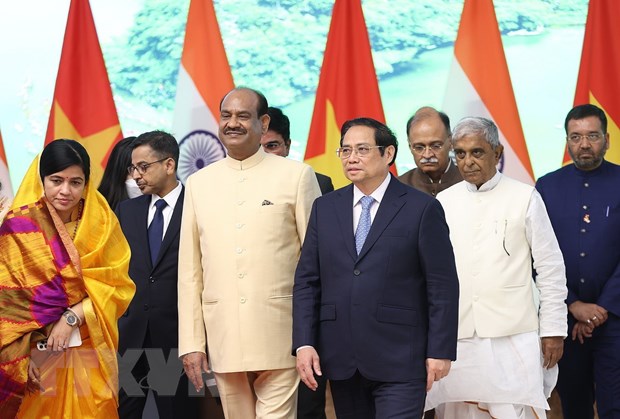 The agreement was reached at the meeting on Tuesday between Vietnamese Prime Minister Pham Minh Chinh and Speaker of the Indian Lok Sabha (the lower house) Om Birla who is on an official visit to Viet Nam.
Prime Minister Pham said that despite the complicated developments of COVID-19, two-way trade between Viet Nam and India recorded US$13.2 billion in 2021, representing a year-on-year increase of 37%.
He suggested India create the best possible conditions for Vietnamese exports including electronics, garments and textiles, agriculture, and fruits to penetrate the Indian market.
Viet Nam, as the Government chief said, always welcomes and offer pavorable conditons for Indian investors to strengthen footholds in Viet Nam in such area as pharmacy, infrastructure, processing industry, IT, biology, renewable energy, high-tech, and innovation.
He also asked the two sides to continue to maintain cooperation mechanisms, including the inter-governmental committee mechanism; and further promote collabration in defence - security, culture, tourism, education and training, digital transformation, energy transformation, response to climate change, and maritime and oil and gas cooperation.
In reply, the guest leader expected to spur trade and economic ties between the two countries, towards lifting the two-way trade to US$15 billion as soon as possible.
The pair also discussed on international and regional issues of shared concern, including the East Sea issue.
They emphasized that disputes must be settled by peaceful measures based on international law and the 1982 United Nations Convention on the Law of the Sea (UNCLOS).
They also underscored the importance of full implementation of the Declaration on the Conduct of Parties in the East Sea (DOC) and conclusion of an effective and substantive Code of Conduct in the East Sea (COC) to ensure navigation and aviation freedom, security, and safety in the East Sea./.