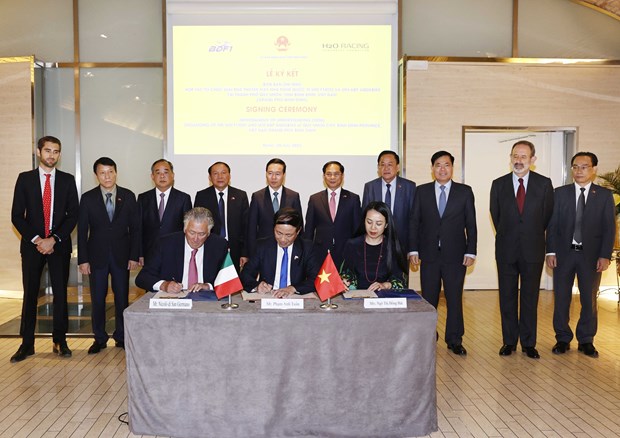 The MoU was inked in Rome, Italy, on July 27 by leaders of the Binh Dinh provincial People's Committee and H2O Racing.
The 2024 Grand Prix of Binh Dinh, a world powerboat racing, is sheduled to take place in Binh Dinh province in the south-central coast of Viet Nam in late March next year.
Accordingly, the 2024 Grand Prix of Binh Dinh includes the ABP Aquabike Grand Prix and the F1H2O Grand Prix, from March 22-24 and from March 29-31, respectively, in Thi Nai Lagoon in Quy Nhon.
The upcoming world sports event in Binh Dinh will become a feature in the world powerboat racing calendar from 2024 onward.
The 2024 Binh Dinh Grand Prix will bring together more than 70 athletes from 30 teams from 30 different countries, including top racers in the world. This is a great opportunity for water sports lovers around the world to witness the thrilling races.
In history, several racers shared a world record for the sport with speeds of up to 261km/h.

Since 1984, nearly 300 major races were held in 33 countries on five continents including in Italy, Germany, Egypt, South Korea, Japan and Sri Lanka./.