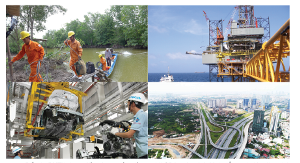 Viet Nam has golden chance to attract investment from Europe

Optimism among European firms
The measures taken by the Vietnamese Government to support the revival of the economy and public health have been evaluated to generate world-leading efficiency.
Viet Nam has resumed business activities sooner than usual compared to other countries which are still struggling with the negative impact of the COVID-19 pandemic, said Nicolas Audier, Chairman of the European Chamber of Commerce in Viet Nam (EuroCham).
The effective economic recoveries in the new normal have inspired a positive psychology and optimism about the business environment among the community of European enterprises operating in Viet Nam.
EuroCham's Business Environment Index (BCI) survey for Q2 2020 showed an increase of 7% from February to April 2020, to 34%.
In addition, more than half of EuroCham member companies predicted that Viet Nam's macroeconomic stability would continue and improve in Q3. More than a quarter of European businesses benefited from the Government's tax deferrals, while about 1% benefited from land rent reduction and the extension of payment deadline for social insurance premiums.
In addition, over 50% of the respondents believed that the reduction of taxes, including corporate income tax, personal income tax and value added tax, would help them better recover better after the COVID-19 crisis.
Challenges remain ahead
The EVFTA and the EU-Viet Nam Investment Protection Agreement (EVIPA) are expected to help Viet Nam pull in quality capital flows from EU investors.
However, according to EuroCham, this capital shift is unlikely to increase quickly in the near future. The shifting trend is real, but it is still being considered by investors.
European investors are now very optimistic when EU member states recently reached a consensus on an economic recovery package of EUR1 trillion (nearly US$1.2 trillion) for the next seven years and a post-COVID economic recovery fund worth EUR750 billion (US$826 billion).
With these economic relief packages, it is expected that EU member economies will have the chance to recover faster, thus having positive effects on global trade and investment growth.
In that context, Viet Nam is expecting to become a destination for investment and trade growth when the EVFTA and EVIPA come into force.
By Vien Nhu