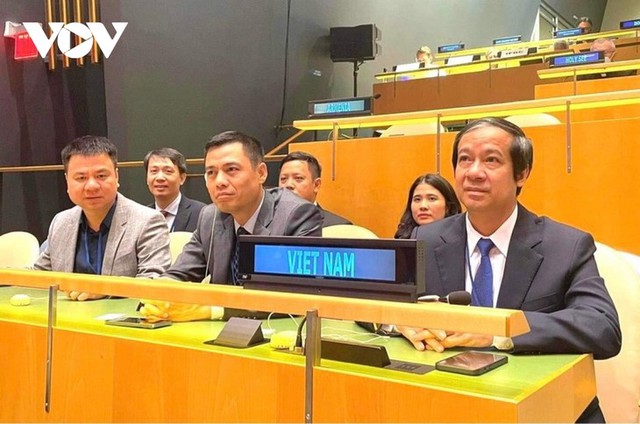 The delegation of the Ministry of Education and Training, led by Nguyen, attended the Transforming Education Summit, chaired by United Nations (UN) Secretary-General António Guterres, in New York, the U.S., from September 16-19.
To make the education process develop sustainably, the Vietnamese Minister suggested abolishing the inequality gaps and focusing on teachers' ability to collaborate, connect and create to help students realize their potential.
It is necessary to ensure the core values of education, help students orient themselves, and build a solid foundation with fundamental values they will cherish throughout their lives, he noted.
At the event, UN Secretary-General Antonio Guterres underscored the importance of protecting the right to quality education for everyone, especially girls, everywhere; and giving a new focus on teachers' roles and skillsets.
Guterres urged international financial institutions to draw on the newly-launched International Finance Facility for Education, a new tool that aims to mobilize US$10 billion to help 700 million children in lower-middle-income countries to access quality education.
On the sidelines of the summit, Nguyen had bilateral meetings with Miguel Cardona, U.S. Secretary of Education, and the World Bank's Global Director of Education to discuss ways to increase future cooperation and investment in education.