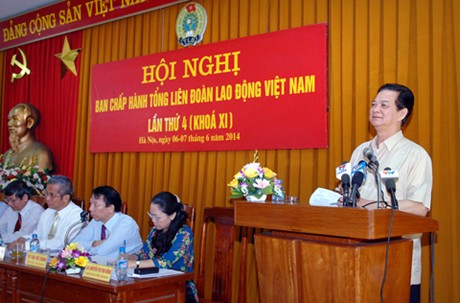 PM Nguyen Tan Dung asks the VGCL to collaborate more effectively with the Government to ease difficulties in production and trade
Prime Minister Nguyen Tan Dung made the request to the organization during the fourth conference of the VCL Standing Committee in Ha Noi on June 6.
PM Dung asked the organization to work more effectively with the Government in easing difficulties in production and trade, contributing to achieving the set growth rate of 5.5% and creating 1.5 million jobs this year.
He also required further collaboration between the organisation and other agencies in launching emulation movements, supporting businesses in difficulties, particularly those which suffered from illegal acts of several extremists during recent social disorder.
Regarding China's illegal placement of the Haiyang Shiyou 981 drilling rig in Vietnamese waters since May 1, PM Dung stressed that China's act violated seriously international law and threatened peace, stability, maritime security, safety and freedom in the East Sea.
Responding to China's wrongdoings, Viet Nam has taken peaceful measures in accordance with international law to protest and ask China to withdraw the rig from Vietnamese waters, PM Dung said.
The wrongdoings have made the whole nation angry, leading to spontaneous protests in several localities. Opportunists took advantage of the events to damage property of businesses, including foreign invested ones. These incidents are regrettable, causing social disorder and impacting on production and trade. The Government has put an end to the acts and taken supportive measures to help most of the affected businesses resume their production and trade.
PM Dung recognized the VGCL's contributions to recovering the unexpected incidents and consolidating investors' trust.
He also stressed that the VGCL should work with authorities at all levels to restructure the economy and support fishermen's offshore operations in order to protect national sovereignty, among its key tasks.
PM Dung asked the VGCL to pay further attention to improving workers' living standards and protecting rights and interests of workers.
By Vien Nhu