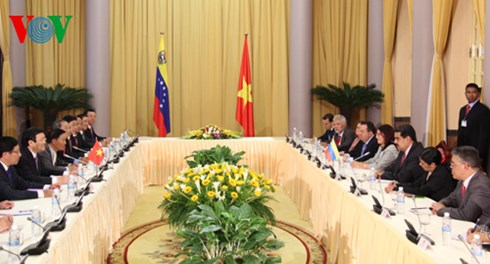 President Maduro said Venezuela always considers Viet Nam as an important partner.
State President Truong Tan Sang made the above statement during his talks with Venezuelan President Nicolás Maduro Moros in Ha Noi on Monday.
President Maduro extended his congratulations to Viet Nam on the occasion of the Southeast Asian country's 70th anniversary of the August Revolution and the National Day (August 2).
He affirmed that Venezuela always considers Viet Nam as an important partner.
The two Presidents agreed to improve the current cooperative mechanisms, including the intergovernmental committee for economic, trade, scientific and technological cooperation and the political consultation between the two foreign ministries.
They agreed to task relevant ministries and agencies to review and further improve legal frameworks to accelerate the bilateral ties while facilitating their businesses to conduct joint projects, especially in such fields like energy, agriculture and aquaculture.
The two sides underlined the importance of the agreement on agriculture projects for the period 2015-2018, which was signed during President Maduro's official visit to Viet Nam.
Both sides also agreed to lift up the two-way trade value to US$1-2 billion in the coming years, expand cooperation in security and defense through experience sharing and training.
The two leaders expressed their pleasure at the fine coordination and mutual support at international forums, especially the United Nations. President Maduro said that Venezuela advocates Viet Nam's bid for membership at the Economic and Social Council (ECOSOC) for the 2016-2018 tenure.
Regarding regional and international issues of common concern, the two leaders said that disputes over territory and sovereignty must be settled through peaceful measures on the basic of international law, especially the 1982 UN Convention on the Law of the Sea.
By Huong Giang