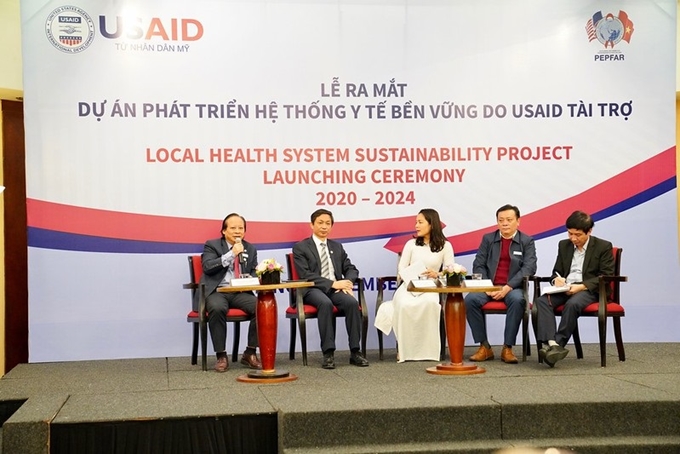 The launching ceremony of the Local Health System Sustainability (LHSS) project in Viet Nam, Ha Noi, December 15, 2020.
The project aims to strengthen the Government of Viet Nam's capacity to sustainably manage HIV and tuberculosis (TB) programs towards achieving the country's commitment to end HIV and TB by 2030.
USAID/Viet Nam Mission Director Ann Marie Yastishock, Deputy Minister of Health Do Xuan Tuyen, representatives of Ministry of Health agencies, and other leaders from Viet Nam Social Security and the Ministry of Finance attended the event.
Through the LHSS Viet Nam project, USAID will continue to work with the Government of Viet Nam, focusing on strengthening public financial management systems for the health sector and finding greater efficiencies in social health insurance and increasing and improving the efficiency of domestic financing of HIV prevention and treatment services.
Meanwhile, the project targets to enhance the capacity of Viet Nam's supply chain management system and integrate TB services into social health insurance.
Speaking at the event, Mission Director Yastishock congratulated the Vietnamese Government and the Ministry of Health on the successful transition of HIV response from donor to domestic funding, with Social Health Insurance as the primary financing mechanism.
Viet Nam now has 90% of HIV patients enrolled in Social Health Insurance. All treatment facilities can now be reimbursed for HIV services.
Most importantly, Social Health Insurance funds are now used to procure ARV drugs, the most expensive component of an HIV response, he said, adding that the USAID, through PEPFAR, has supported the Government of Viet Nam in updating policies and building systems that would support this transition.
The four-year project (2020 – 2024) with a planned budget of US$13.9 million, is funded by the U.S. Government through the U.S. President's Emergency Plan for AIDS Relief (PEPFAR) and USAID.
It is a part of USAID's global initiative in integrated health systems strengthening to help low- and middle-income countries transition to sustainable, self-financed health systems as a means to support access to universal health coverage.
By Thuy Dung