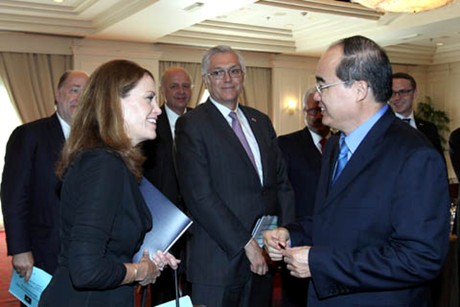 Photo: VGP
The representative made the statement during a meeting with President of the Viet Nam Fatherland Front (VFF) Nguyen Thien Nhan in Ha Noi on June 2.
VFF President Nhan valued US leading enterprises' attention to the Vietnamese market and the countr's open policies to foreign investment.
The State has devised plans to continue developing a friendly investment environment and enhancing State management and fighting against corruption.
It has also participated in building a connected and integrated ASEAN in the process to build an ASEAN Economic Community by the end of 2015, negotiating the Trans-Pacific Partnership (TPP) and developing a skilled workforce for the 21stcentury.
At the meeting, US executives showed their interest in infrastructural investment and the equitization process in Viet Nam's State-owned enterprises.
The USABC's visit to the country shows the trust of US enterprises in the investment environment in Viet Nam and their long-term investment commitment in Southeast Asia, including Viet Nam.
In 2013, 22 US enterprises came to study the investment environment in Viet Nam and the number has risen to 33 so far this year.
The US market has been a large and important market of Viet Nam, with exports accounting for 20% of the country's total export turnover. Viet Nam's exports to the US brought about US$20 billion last year and it is expected to grow by 10% this year.
US enterprises tend to shift their orders from some other regional countries to Viet Nam.
The USABC represents nearly 130 US enterprises and most of them are listed in the top 100 leading US enterprises.
The council supports its members to do business in Southeast Asia and contribute to boosting economic links between the US and regional nations.
It has held a leading position in enhancing the US-Viet Nam relations over the past two decades.
By Vien Nhu