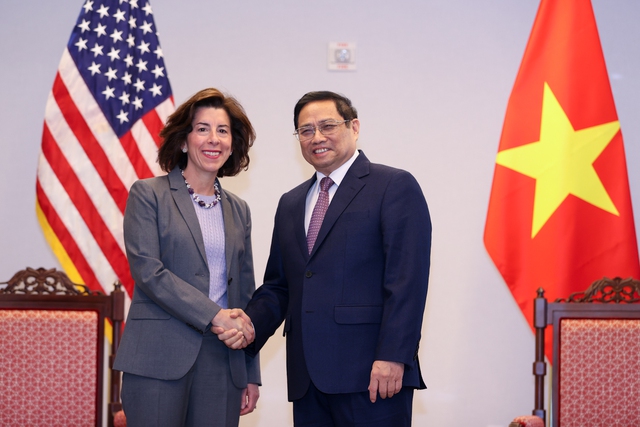 Raimondo made the above statement during her meeting with Vietnamese Prime Minister Pham Minh Chinh who is on a working visit to the U.S.
The U.S. expects to strengthen collaboration with Viet Nam in launching commitments the country made at the 26th United Nations Climate Change Conference of the Parties (COP26), said Raimondo, expressing her delight on the two nations' achievements in the bilateral relationship, especially in economics and trade.
She congratulated the Southeast Asian nation on its success in containing the COVID-19 pandemic, asserting that the U.S. will continue supporting Viet Nam in the post-coronavirus period.
The U.S. Secretary of Commerce noted that, more Vietnamese firms are interested in investing in the U.S., which she said will help boost the bilateral economic ties in the upcoming time.
For his part, PM Pham thanked the U.S. Department of Commerce in general and the U.S. Secretary of Commerce in particular for their support in fostering the bilateral trade ties.
He highly valued the sound development in the economic and trade relations between the two nations, with the two-way trade value increasing from US$400 million in 1995 to nearly US$112 billion in 2021.
The Vietnamese Government leader expected that the bilateral trade relation will further develop in a more harmonious and sustainable manner, focusing on diversifying supply chain, digital transformation investments and enhancement of science and technology.
Viet Nam commits to continuing creating a fair and transparent business environment and based on the principles of market economy, fairness, harmonized benefits and shared risks for the U.S. investors to expand operation in the country, affirmed the PM.
Viet Nam needs further cooperation from developed countries, including the U.S., in green finance, technology and human resource development, he added.
The occasion, the Vietnamese PM and the U.S. Commerce Secretary witnessed the exchange of cooperation documents between the two countries' agencies and businesses in such sectors as energy, infrastructure, telecommunications, digital technology and climate change response, which aim to support Viet Nam in reaching commitments at the COP26.