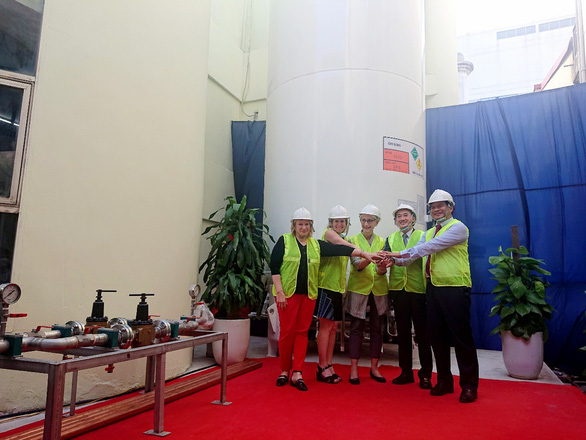 This is the largest system of its kind out of the 13 USAID-funded liquid oxygen systems being installed at health care facilities across Viet Nam to strengthen critical care capacity and save lives.
In addition, the system is expected to strengthen oxygen supply in order to raise treatment efficiency for infants with respiratory failure, children with pneumonia, sepsis, congenital heart disease, adults with tuberculosis and other cases.
The new liquid oxygen system consists of an on-site storage tank and high-pressure piping to transport the oxygen to patients' bedsides. It provides a safe and reliable source of medical oxygen for up to 1,000 patients per day at the hospital.
USAID is also providing related staff training and equipment to administer the oxygen, such as high-flow nasal tubing and patient monitors, which allow hospital staff to efficiently track patients' vital signs and quickly respond to changes in patient conditions.
Addressing the launching ceremony, U.S. Deputy Secretary of State Wendy Sherman said that the U.S. Government is proud to be the leading partner of the Vietnamese Government in COVID-19 response and health security. He also expected that the new liquid oxygen system will significantly help Viet Nam improve intensive care capacity.
In reply, Deputy Minister Tran Van Thuan lauded the cooperation and support of the U.S. for Viet Nam. He suggested Bach Mai hospital and the other 12 recipients effectively use the system to raise medical services.
Since the beginning of the COVID-19 pandemic, the U.S. has joined hands with the people and Government of Viet Nam to tackle one of the greatest public health challenges of our time. U.S. contributions including technical support, life-saving medical equipment, and nearly 40 million doses of COVID-19 vaccine have enhanced Viet Nam's own remarkable response to this global challenge./.