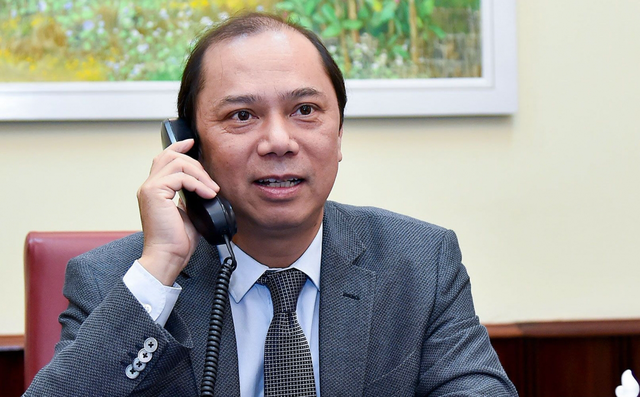 Deputy Assistant to the President and Coordinator for Indo-Pacific Affairs on the National Security Council Kurt Campbell and Assistant Secretary of State for East Asian and Pacific Affairs Daniel Kritenbrink made that above statement during their phone calls with Deputy Foreign Minister Nguyen Quoc Dung on January 25.
Both sides expressed their delight at the practical, effective and extensive development in the Viet Nam-U.S. Comprehensive Partnership, making contributions to maintaining peace, stability, cooperation and development in the Indo-Pacific region and the world.
The Vietnamese diplomat suggested the two nations enhance exchanges and dialogues, particularly high-level ones as well as boost economic, trade and investment ties within the Trade and Investment Framework Agreement (TIFA) framework.
He spoke highly of the U.S. commitments to increasing budget for Viet Nam to overcome consequences of the war and establishing the U.S. Center for Disease Control and Prevention (CDC) in Ha Noi.
Nguyen expressed his hope that the U.S. will continue giving priority to supporting Viet Nam in such fields of education and training, health, humanitarian work, digital economy and climate change adaption.
He also took the occasion to call on the U.S. to accelerate comprehensive, sustainable and inclusive cooperation with the region, advocate the solidarity and central role of ASEAN and expand U.S.-ASEAN Strategic Partnership and the Mekong-U.S. Partnership.
Kurt Campbell and Daniel Kritenbrink said that the U.S. welcomed Viet Nam to continue realizing its commitments in an action plan towards harmonious and sustainable trade with the U.S. as well as highly appraised Prime Minister Pham Minh Chinh's strong commitment to achieving net-zero emissions by 2050 at the COP26.
The U.S. will continue strengthening collaboration and assistance for developing nations, including Viet Nam in coping with climate change, they emphasized.
The two sides pledged to foster coordination within the framework of the United Nations and other multi-lateral forums, contributing to maintaining the regional and global peace, stability, security and development.