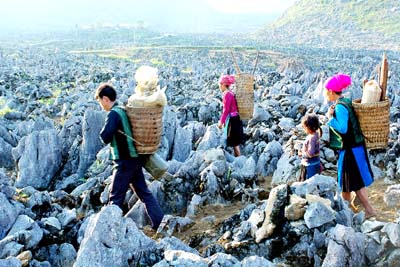 A view of the Đồng Văn stone plateau in Việt Nam's northernmost province of Hà Giang

The plateau was admitted to the UNESCO Global Geo-parks Network (GGN) on October 3. This is an event of significance to Hà Giang, since it can boost tourism, thereof raise living standards of 22 ethnic groups in the province.

Vice Chairman of the provincial People's Committee, Mr. Đàm Văn Bông, said that to tap the plateau's potentials in a sustainable and effective way, Hà Giang will complete an overall planning on June 30, 2011.

The province has put forth eight groups of solutions, including the establishment of infrastructure networks, the preservation of geological values, the enhancement of public awareness, the construction of incentive policies and mechanisms, and the development of economic models associated with poverty reduction, he told reporters in a press briefing yesterday in Hà Nội.

Ms. Katherine Muller Marin said UNESCO will help Hà Giang by sharing experience of geo-park management, making maps of tourist potentials, and designing management plans.

Covering over 2,300 km2 in four districts of Quản Bạ, Yên Minh, Đồng Văn and Mèo Vạc, the plateau contains hallmarks of the earth crust's development history. It also has picturesque natural landscapes and unique cultures of local residents.