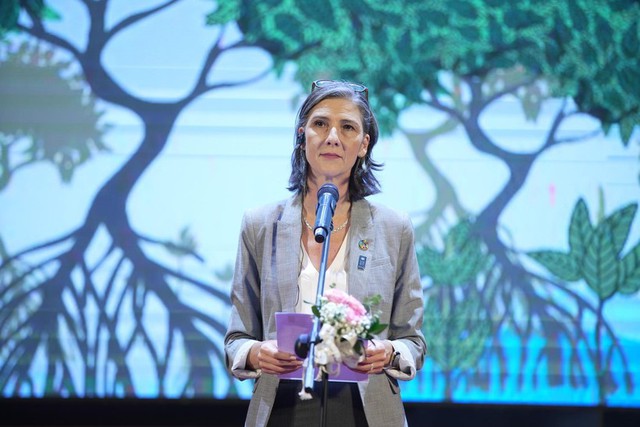 Ramla Khalidi hailed Vietnamese Government's efforts in coping with global challenges in the first half of its five-year term in her recent interview with VGP.
According to the UNDP Resident Representative, the year 2021 got off to difficult start as new variants of the COVID-19 virus found their way to Viet Nam. The Delta and Omicron variants spread quickly through the population, forcing a return to social distancing measures and lockdowns in the hardest hit regions.
However, from March 2021 the Government launched a vaccination campaign that rapidly gathered pace in the second half of the year. By the end of 2022, Viet Nam had administered 2.7 doses per person, significantly higher than averages for Asia as a whole (1.9 doses) and Europe (1.8 doses per person).
"The success of the vaccination program laid the foundations for a rapid economic recovery in 2022, which exceeded most economists' expectations. Viet Nam was the only country in the region to significantly outperform World Bank and the International Monetary Fund (IMF) growth forecasts published in April and May of 2022", she stressed.
Regarding the nation's achievements in stabilizing macro-economy, Ramla Khalidi said that global economic growth slowed in 2023 as central banks raised interest rates to meet inflation targets.
Government policies protected domestic consumers from the negative impact of inflation, which peaked in Viet Nam at 4.9 percent in January 2023 and declined to 2.1 percent by July.
To cope with high inflation, rising cost of credit, slowing growth imports of manufactured goods, and weaker export demand, the Government responded with fiscal and monetary measures to stimulate domestic demand.
In term of social welfare, the coverage of Viet Nam's social protection system has increased in recent years, particularly access to health insurance, she said, adding that a more robust social assistance system would provide a direct means of supporting domestic demand, while protecting vulnerable people and groups from sudden descents into poverty.
Public investment is an important instrument for economic recovery
Referring to challenges for Viet Nam in the upcoming months of the year, the UNDP Resident Representative said, Viet Nam's merchandise exports peaked in the third quarter of 2022 but fell sharply in January 2023. Although export values recovered in May and June, they remain below those posted last year.
Some of Viet Nam's most important exports have seen declines, including mobile phones, footwear and seafood. Falling exports directly reduce demand for domestically produced goods and services, and indirectly affect consumption as employment levels fall in export industries.
"As price inflation slows in Europe and North America, we can look forward to lower global interest rates and a recovery in international trade. With supportive policies in place and more favorable external conditions, growth could still beat expectations", she shared.
Ramla Khalidi predicted Viet Nam's GDP growth of 5 percent in 2023 and 6 percent in 2024.
There are also risks to the downside, including increase in food and fuel prices, currency market fluctuations and financial market instability related to the downturn in the real estate market.
Property developers are still highly leveraged and face difficulties completing projects, which limits the ability of domestic banks to increase lending, she said, noting that legal reforms to speed up the completion of construction projects, and reform of bankruptcy laws would free up capital needed to accelerate growth.
Ramla Khalidi supposed that public investment is an important instrument to address the negative effects of climate change and to stimulate domestic demand.
Disbursement of public investment funds has improved in 2023, and the Government expects to achieve 95 percent realization of the public investment program by the end of the year. More rapid disbursement of public investment will support demand growth and create jobs.
However, public investment as a share of GDP has been falling in recent years, a trend that must be reversed if Viet Nam is to achieve the nation's climate goals.
Beyond the question of the volume of public investment, more attention is needed to the selection of public investment projects. Better coordination of public investment, especially more effective regional coordination, would increase the economic impact of investment, she stated.
According to Ramla Khalidi, Viet Nam is well-positioned to attract investment in high-tech industries like semiconductor manufacturing. However, employers still report shortages of skilled workers in these sectors, especially in engineering and the sciences.
Reforms to higher education over the past decade have created a more diverse university system, nevertheless, the share of working-age adults possessing a university degree is still much lower in Viet Nam than in neighboring countries.
Energy transition will give Viet Nam advantage
Regarding Viet Nam's efforts in realizing its net-zero goals, the UNDP Resident Representative said that the transition from fossil fuels to renewable energy will increase energy security, reduce pollution and in the long run stabilize energy prices.
As importing countries start to pay more attention to sustainability, the energy transition will give Viet Nam an advantage over other exporters of manufactured goods.
Putting in place incentives to accelerate the transition will be important in the coming years. The development of a carbon trading market, and eliminating subsidies for fossil fuels, will encourage businesses and households to speed up the shift to renewable energy.
The approval of the Power Development Plan 8 (PDP8) has been widely welcomed as evidence that Viet Nam is determined to achieve net-zero carbon emissions by 2050.
The plan seeks to double power generation capacity by 2030, with the share of coal reduced sharply and renewables, especially onshore wind, expanded from the previous plan.
Highlights include US$15 billion allocated for grid development, encouragement of direct production and consumption of solar energy and the creation of two inter-regional renewable energy manufacturing and service centers to boost the local green economy.
The Government will now turn to putting in place the legal and regulatory frameworks required to achieve these objectives.
Ramla Khalidi underlined the importance of coordination of the PDP8 with the Just energy Transition Partnership, a US$15.5 billion pledge agreed with the International Partners Group (G7, EU, Norway and Denmark) and the Glasgow Financial Alliance for Net Zero (GFANZ).
The JETP includes ambitious targets for greenhouse gas emissions and use of coal in electricity generation, goals that will only be met if significant investments are made in transmission, distribution and storage along with renewables.
The JETP also calls for protection of vulnerable groups that may be put at risk because of the energy transition, for example workers in activities and industries to be phased out and low-income groups that would be adversely affected by energy price increases.
"UNDP is actively engaged with the Government in analyzing the social and economic impact of the energy transition, including the identification of groups and localities that will need additional public support", she emphasized./.