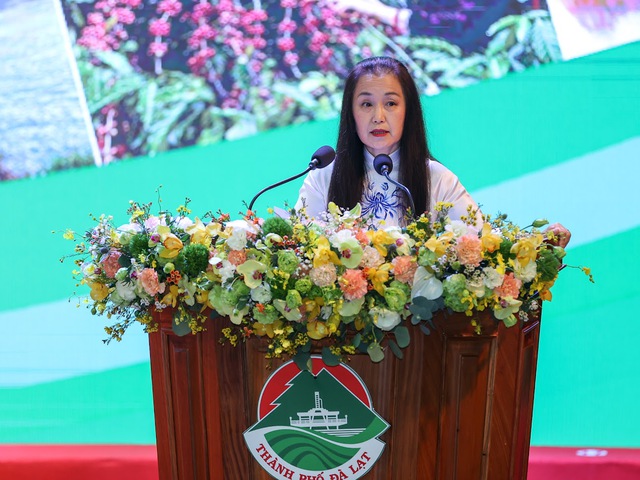 Addressing the event held on November 20, Naomi Kitahara congratulated the Government of Viet Nam on its significant efforts made to develop strategic frameworks and policies for green growth and climate action, reflecting the Government's strong commitment to sustainable development while making meaningful contributions to the global agenda.
The Government's Action Plan in Implementing Resolution 23-NQ/TW about the Directions for Economic Social Development and Ensuring Security & National Defense in the Central Highlands or Tay Nguyen area until 2030, with a Vision to 2045, is an example of the whole of political system commitment
By adopting it, the Government is translating into action the Resolution of the Pollical Bureau that sets visions for socio-economic development of Central Highlands toward sustainable development, green growth and climate resilience, she noted.
Central Highlands-strategic location of Viet Nam
Viet Nam is one of the countries that are most vulnerable to the impacts of climate change, given dependency on natural resources and agriculture in low-lying coastal and delta regions.
Meanwhile populations in remote upland areas, including those in the Central Highlands, are extremely vulnerable to climate change, compounded by poverty and socio-economic factors.
The Central Highlands region has long been a strategic location and stand at the forefront of the national battle to fight climate change, halt loss of natural forests, preserve biodiversity, and sustain outstanding agricultural potential.
The Central Highlands are the region of global importance in terms of agricultural commodities such as coffee, pepper, cashew, fruits, and tea. Coffee production in the Central Highlands has made Viet Nam the world's second largest coffee exporter-the two provinces of Lam Dong and Dak Nong, for example, account for 40 percent of national coffee production.
The region remains highly important for its biodiversity and ecosystem values. The Central Highlands have about 40 designated and proposed protected areas, covering a total of around 1.96 million hectares.
The region is home to many rare and endemic species of flora and fauna, as well as a number of different types of forests and other ecosystems.
The region is also an important watershed of the main rivers, reservoirs and dams supplying water to the central and south-eastern coastal areas, such as the Dong Nai River, the Serepok river, Da Nhim, Dai Ninh hydroelectric dams and other downstream lakes.
The Central Highlands is also home to many ethnic groups. They are diverse, and they have rich cultures with typical characteristics, but they all share forests in common.
The forests of the Central Highlands are providing a range of significant environmental, social and economic benefits to people and wildlife, including essential goods such as food and medicines, and supporting local industries and livelihoods.
Preserving traditional cultures and promoting traditional knowledge and practices of local communities must go hand in hand while preserving living space and forest ecosystems.
In this context, the UN highly appreciates that Resolution 23-NQ/TW and the Government's Action Plan has placed a strong focus on the protection and restoration of forest ecosystems, and the conservation of biodiversity while improving livelihoods of local population groups and preserving traditional cultures.
"The UN in Viet Nam fully recognizes them and highly appreciates such Government decisions made and actions taken", she emphasized.
For sustainable development in Central Highlands
According to Naomi Kitahara, given the strategic location, the potential, and the geographical size, it important that the Central Highlands not be viewed as a marginal area or a remote frontier zone, but as an area of the country's strategic investment to accelerate socio-economic development.
Integrated planning is a critical process that helps translate the strong high-level political vision into actions through the regional as well as provincial master plans and land use plans.
These must be done by an in depth analysis on water scarcity and land-use dynamics across sectors, and discussions on how sectoral targets can be achieved with a lower impact on natural assets such as forests and biodiversity.
For example, natural accounting and mapping of ecosystem services and critical biodiversity conservation areas can be used to inform the decision-making process when discussing trade-offs.
In order to improve livelihoods of local population groups, sustain and diversify food production, and enhance eco-systems, it is essential to signal clear policies towards a transformation of the agricultural sector, and make it much more resilient to climate change, by adopting climate smart agriculture and nature-based solutions (NbS), and deforestation-free value chains.
Policy development can also look into the promotion of private sector engagements, as well as for well-defined sustainability commodity criteria combined with an early-warning, transparent and inclusive Mechanical and Electrical M&E framework supporting the enforcement of environmental regulations and traceability of commodity value chains.
She underscored the importance of social and social protection measures, particularly for ethnic minorities, women, young people, children, and the elderly. It should include a secure and responsive social safety net, increased social assistance coverage, and more job opportunities.
Social issues, such as gender equality, gender-based and domestic violence, and child marriage should be addressed through changes in harmful social norms and practices and multisectoral response, while respecting socio-cultural diversity and uniqueness of ethnic minorities.
The UN is well placed and ready to advance Viet Nam's agenda by implementing measures and solutions, with on-going and newly proposed projects for the Resolution 23, said Naomi Kitahara./.