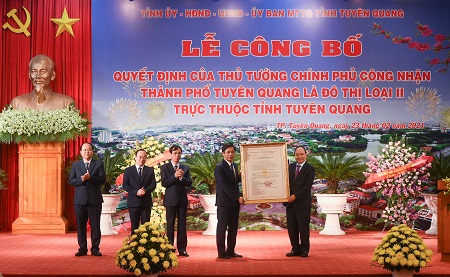 PM Nguyen Xuan Phuc attendes a ceremony to announce the decision on the recognition of Tuyen Quang City as a second-class city under Tuyen Quang Province
Addressing the event, the PM expressed his pleasure at Tuyen Quang City's promotion to the grade II city under Tuyen Quang Province, a land of rich revolutionary traditions once known as the capital of the liberation zone and a resistance capital in the past.
He hailed urbanization as a crucial factor behind the success of the economic restructuring, productivity improvement and socio-economic development process of each region and the whole country.
This is also an important development orientation that was determined by the recent 13th National Party Congress, the leader said.
Earlier on February 2, 2021, the PM signed a decision on recognizing Tuyen Quang City as the grade II city under Tuyen Quang Province.
After over 10 years of construction and development efforts since it became a third-class city, Tuyen Quang has exerted great efforts to achieve remarkable strides in various fields.
The city's average economic growth rate reached 12.51% in the last three years, while its urban population stood at 232,230 as of late 2019.
The percentage of non-agricultural employment has now hit 80.04%; the rate of solid and semi-solid houses at 97.48%; the rate of lighted major streets at 96.2%; and especially 100% of daily-life solid waste has been treated./.
By Vien Nhu