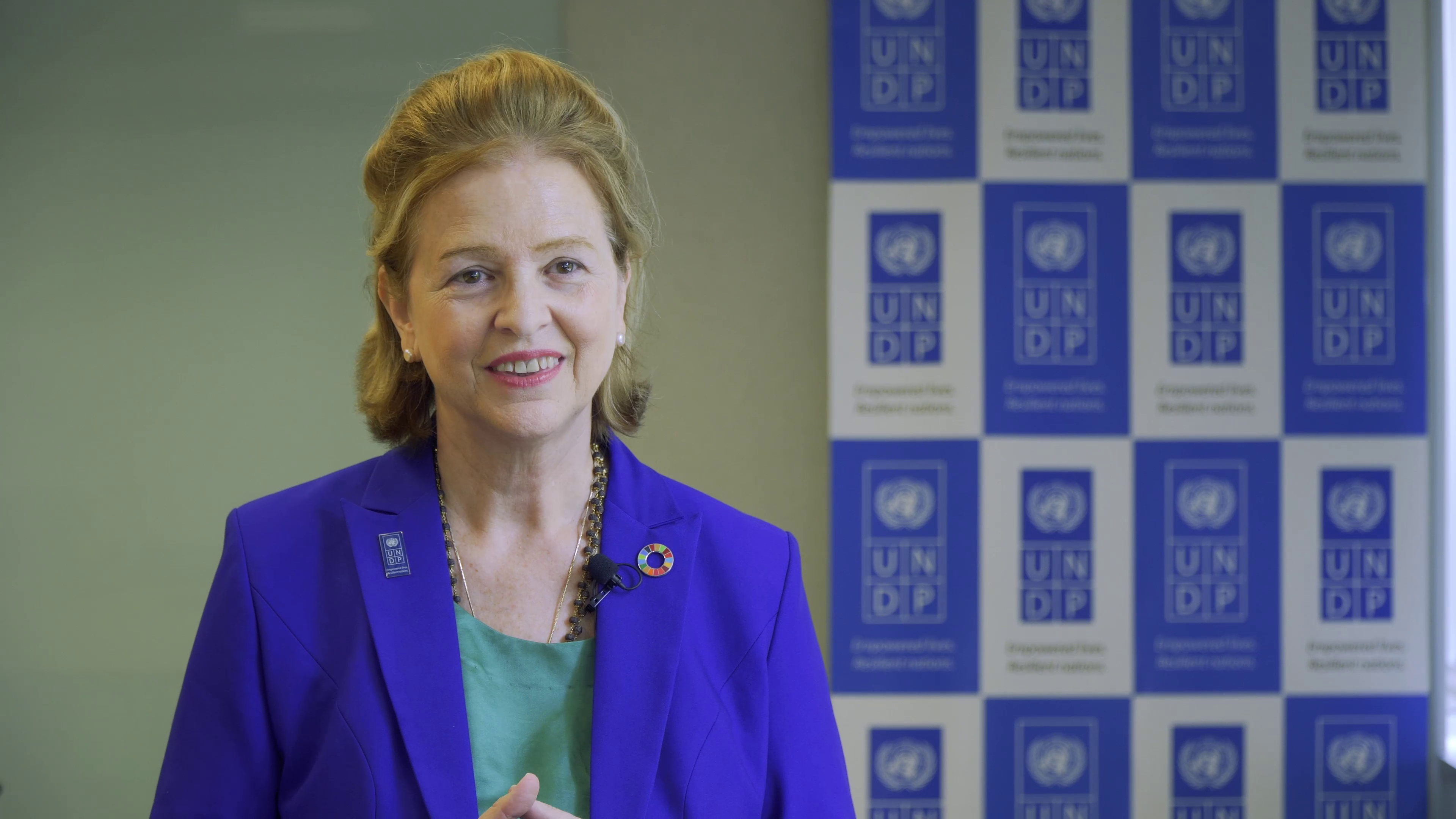 UNDP Resident Representative in Viet Nam Caitlin Wiesen
Speaking at a recent interview with the Viet Nam Government Portal, Wiesen said COVID-19 pandemic has affected her office's work in two main ways.
Firstly, and most importantly, the pandemic poses a direct challenge to UNDP's mission of accelerating achievement of the Sustainable Development Goals (SDGs) with transformative actions for ending poverty, protecting the planet, and ensuring that by 2030 all people enjoy peace and prosperity.
As UNDP's assessments have shown, the pandemic's socio-economic impacts fall disproportionately on poor and near poor households, people with disabilities, ethnic minorities, and migrant and informal workers.
In Viet Nam, as in more than 170 countries around the world, UNDP has moved rapidly to respond to COVID-19 by building forward better in the areas of social protection, green economy, anticipatory governance, and digital transformation, in order to ensure that no one will be left behind as a result of the pandemic.
Secondly, UNDP has had to adopt new ways of working in order to carry out our mission in Viet Nam during the pandemic. In early 2020, after the first COVID-19 cases were reported in Viet Nam, the UNDP Viet Nam updated Business Continuity Plan and adopted new digital tools for remote working, which allowed them to continue delivering our COVID-19 response and recovery support and continuing to implement important long-term programmes throughout four waves of outbreaks.
Caitlin said innovations applied by the UNDP Viet Nam during the pandemic will become part of thier ongoing work practices for greater efficiency, flexibility, effectiveness and continuing to reduce our carbon footprint.
Regarding efforts of the Vietnamese Government in the pandemic response, the UNDP Resident Representative said Viet Nam has been one of the global success stories in responding to the pandemic.
Viet Nam's trace and test approach with transparent public communications has been key to this success and it is still the most important immediate measure for addressing the current wave of cases, said Wiesen.
Placing people's health at the center of the COVID-19 response has been the right approach and has also delivered a tangible economic dividend, she added.
Viet Nam was the only ASEAN country, and one of very few worldwide, to achieve economic growth in 2020. UNDP's study on Citizens' Opinions of and Experiences with Government Responses to COVID-19 Pandemic in Viet Nam confirmed widespread public support in Viet Nam for the Government's COVID-19 response, according to Wiesen.
Viet Nam also played a key role in regional response efforts during Viet Nam's tenure as ASEAN Chair, promoting the COVID-19 Response Fund and the proposed ASEAN Regional Center for Public Health Emergencies and Emerging Diseases (ACPHEED). And Viet Nam has provided valuable support to neighboring countries including Cambodia and Lao PDR.
In the longer term, vaccines are vital, stressed Wiesen, adding that Viet Nam has moved quickly on the first phases of delivering the vaccine to frontline workers, healthcare staff and other priority groups.
She expressed her belief that the key challenge now is accessing enough vaccines to protect the whole society and to pave the way for full economic recovery and reopening the country.
Wiesen also commended the billion-dollar fund which Viet Nam has established and the recent agreement by the National Assembly to fund up US$500 million to procure vaccines from multiple sources.
Viet Nam has also submitted a proposal to WHO for approval to become a potential 'hub for vaccine production' – first for Viet Nam and then possibly for the region.
COVID-19 impacts continue to be disproportionately borne by the poor and also the near poor, who risk falling back into poverty. Based on UNDP's socio-economic response activities in northern mountainous and Mekong delta provinces, Wiesen said the UNDP would recommend preparing for decentralized public works programs in case they are needed in the coming months in localities where people have lost employment and livelihoods.
Public works are useful as a rapid response mechanism because they are self-targeting, meaning that people will only turn up for work if they really need the money. Public works employment should be gender-neutral and organized locally to allow local authorities to identify projects appropriate to local needs that contribute to economic recovery. Temporary social protection mechanisms are needed for workers on industrial estates and in other areas affected by quarantine. Cash grants can help workers meet their immediate requirements and also discourage them from leaving the area during the quarantine period.
She also expressed her belief that the strong leadership of the Government and the dedication and tireless efforts of frontline workers, health staff and others involved in the COVID-19 response in Viet Nam have given confidence to foreigners living and working in Viet Nam.
"Clear and regular communications on the disease situation and prevention and control activities have played an essential role, and it will be important for the Government to maintain these elements as the COVID-19 situation continues to evolve," said Wiesen.
As Viet Nam moves into the next phase of its pandemic response, it will be equally important to continue regular communications on vaccine procurement, delivery and eventual production to contribute to the protection of all people in the country and allow the easing of restrictions on international travel as soon as it is safe to do so, she suggested.
On cooperation between the Vietnamese Government and the UNDP in the COVID-19 fight, Wiesen said the UNDP has supported Viet Nam's health sector response since the onset of the pandemic through the provision of essential supplies and equipment including PPE, PCR machines and test kits, and service robots deployed in key hospitals to reduce infection risks. UNDP has supported the Ministry of Health on communications to ethnic minorities and people with disabilities, and on digital solutions to improve access to health services and reduce the risk of disease transmission.
The UNDP has also contributed to innovation through new standards and quality assurance for domestic production of essential PPE.
During the pandemic, the UNDP with funding support from the Government of Japan and other sources has supported more than 60,000 people to meet their essential needs and begin to recover their livelihoods. It has alos supported a green recovery and building forward better from COVID-19 in Viet Nam.
"Our recovery support to dragon fruit farmers in Binh Thuan province has enabled them to make significant cost savings through more energy efficient and water efficient technologies, and they are developing their e-business and live-streaming skills", according to Wiesen.
The UNDP is implementing a project to improve citizen's access to services via provincial e-government portals during the pandemic and has joined hands with the Government and other partners to identify areas where further improvements to COVID-19 support policies are needed, to ensure that they reach heavily impacted micro, small and medium enterprises and cooperatives.
In the long term, the UNDP is working with the Government to build resilience and strengthen capacity for managing in an increasingly complex and uncertain world with governance that is anticipatory, adaptive and agile./.
By Ngoc Van