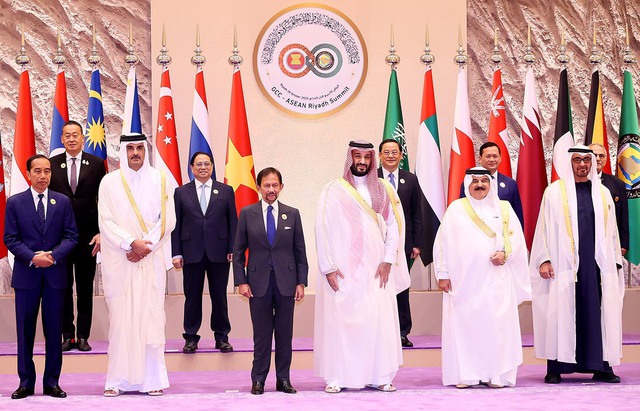 Prime Minister Pham emphasized the point in his remarks at the first ASEAN-GCC Summit in Riyadh, Saudi Arabia on Friday.

From that perspective, Pham called on the two blocs to work together to further facilitate economic, trade and investment ties for mutual benefits and green and sustainable development in each side.
He underscored the first summit is a historic milestone in the history of the two sides' relationship that dates back to 1990.
Pham urged both sides to create favorable conditions for investment funds and enterprises from the GCC countries to further expand investments in ASEAN while supporting ASEAN Member States to boost export of goods and services to the Persian Gulf region.
The two sides should also give priority to cooperation in such domains like green economy, digital economy, circular economy, sharing economy, sustainable agricultural development and energy transition, the Vietnamese Prime Minister suggested.
He underlined the need to promptly institutionalize ASEAN-GCC cooperation by adopting regular, practical and effective mechanisms for each sector of cooperation; strengthen multilateral coordination and mutual support to promote the two blocs' centrality for peace, stability and development in the two regions and the world as well.
Viet Nam strongly protests the use of force regarding escalating tensions in the Middle East and calls on relevant parties to immediately end acts of violence against civilians, humanitarian facilities and essential infrastructure, affirmed the Prime Minister.
Pham stressed that sustainable and long-term peace in the Middle East can only be achieved through negotiations, peaceful settlement of differences, two-State solution, and United Nations resolutions.
At the summit, ASEAN leaders appreciated GCC countries' accession to the ASEAN Treaty on Amity and Cooperation (TAC) and welcomed the United Arab Emirates to become a sectoral dialogue partner of ASEAN since 2022.
The leaders expressed their pleasure at the positive growth of cooperation between the two regions in 2022, notably, the two-way trade reached US$142.25 billion and investment flows totaled US$523.46 million.
Looking forwards to the future, ASEAN and GCC leaders agreed to maintain regular exchanges and convene summit meeting every two year.
Given the current global context, the leaders agreed to foster multilateral coordination, dialogue, cooperation and trust-building while joining hands in addressing regional and international challenges in order to contribute to peace, security, stability, and sustainable development across the world .
The leaders also underscored the importance of maintaining peace, stability, security, safety and freedom of navigation and aviation in the region, of settling disputes through peaceful measures in line with international law and the 1982 UN Convention on the Law of the Sea./.