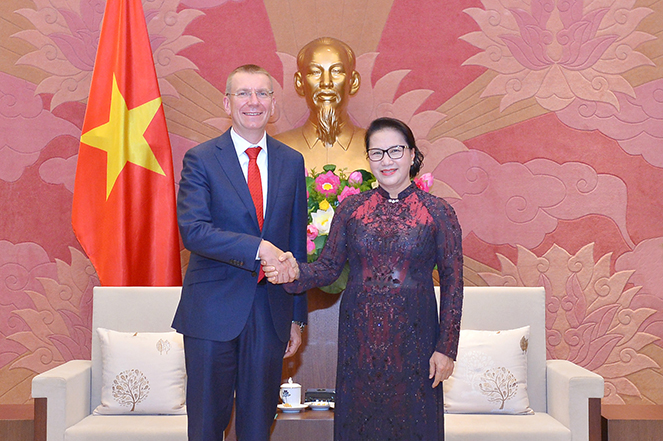 National Assembly Chairwoman Nguyen Thi Kim Ngan (R) and Latvian FM Edgars Rinkevics, Ha Noi, July 17, 2019 - Photo: VNA
Chairwoman Ngan praised the working visit of FM Edgars Rinkevics, hoping that the visit would contribute to cement and deepen the traditional ties in practical and effective manner.
The host leader highly spoke of the close cooperation among the two countries at multilateral forums especially the United Nations. He took the occasion to thank Latvia for supporting Viet Nam's candidacy for a non-permanent seat at the UN Security Council for 2020-2021 and called for more support and coordination from the country during performing the post.
So far, Viet Nam is Latvia's biggest trade partner in the Association of Southeast Asian Nations (ASEAN) while Latvia is Viet Nam's largest Baltic trade partner, with two-way trade turnover touching US$ 187.2 million in 2018 and US$ 88.9 million in the first five months of this year.
Chairwoman Ngan hailed the support of Latvia in promoting the EU to sign the EU-Viet Nam FTA (EVFTA) and the IPA with Viet Nam; calling upon Latvia to support and push the European Parliament (EP) to early ratify IPA.
Ms. Ngan suggested the Latvian Government to create more favorable conditions for the Vietnamese community to stabilize their lives and run business in the country.
In return, FM Edgars Rinkevics suggested the Vietnamese and Latvian legislatures step up their partnership and soon establish a friendly parliamentarians' group in each country.
The minister stressed that Viet Nam and Latvia are considering the signing of an agreement on labor cooperation, and expressed his hope for stronger bilateral trade and investment ties.
Lativa will spare no effort to urge the European Parliament to soon ratify the EVFTA and the Latvian Parliament to pass the EVIPA, he said./.
By Kim Anh