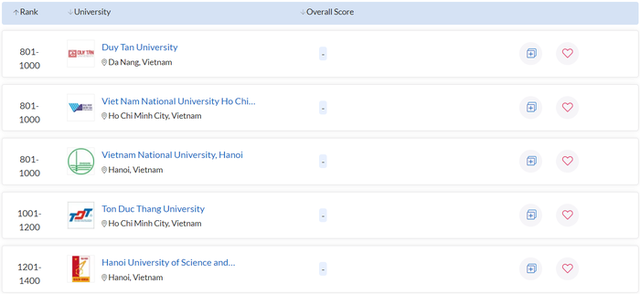 They are Duy Tan University in the central city of Da Nang, Viet Nam National University in Ho Chi Minh City and Ha Noi National University.
Besides, Ho Chi Minh City-based Ton Duc Thang University is in the top 1001-1,200 while Ha Noi University of Science and Technology is in the top 1,201-1,400.
The QS World University Rankings 2023 is the largest with 1,418 institutions across 100 locations, up from 1,300 institutions last year.
The results account for the distribution and performance of 16.4 million academic papers published between 2016 and 2020, as well as for the expert opinions of over 151,000 academic faculty and over 99,000 employers.
The QS World University Rankings 2023 is based on the six indicators, including academic reputation, employer reputation, faculty/student ratio, citations per faculty, international student ratio and International faculty ratio.