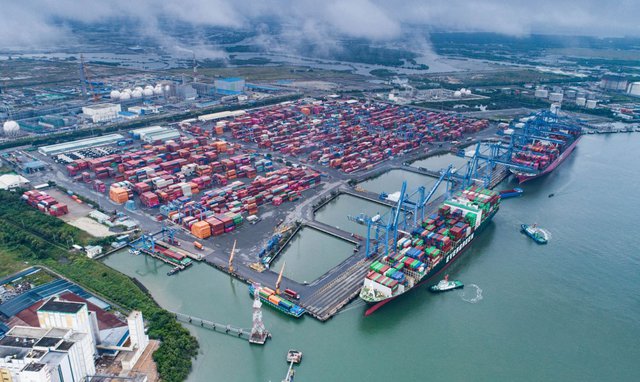 They are Sai Gon port (ranking 22nd), Hai Phong port (ranking 28th), and Cai Mep port (ranking 32nd).
Sai Gon port recorded a throughput of 7.9 million Teus in 2021 and a growth rate of about 1.3 percent compared to 2020.
In addition, Can Gio international transhipment port project near the Sai Gon port in Ho Chi Minh City - Viet nam's biggest economic engine, with an estimated investment of US$6 billion, if approved, could be the largest transhipment port in the country and have a significant trade effect with countries in the region.
Meanwhile, the Hai Phong seaport handled a throughput of 5.69 million Teus in 2021, an increase of about 10.8 percent compared to the 2020 pandemic, and doubling the volume in 2012.
Other seaports located in the northern city of Hai Phong also experienced an increase in cargo traffic. In particular, Tan Vu port at Lach Huyen achieved the best output when more than 1 million Teus passed last year.
Cai Mep seaport handled throughput of 5.32 million Teus in 2021. It was considered a bright spot in Southeast Asia, with a post-pandemic growth rate of about 22 percent.
This impressive growth was achieved after Cai Mep added Gemalink port (with a 25 percent stake in the world's most extensive shipping line CMA-CGM) into operation. The port was expected to receive about 1.4 million Teus throughput in 2022./.