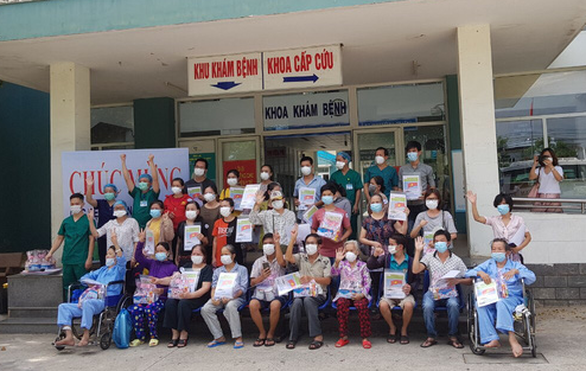 The recovered patients
The recoveries included Patient 422, Patient 488, Patient 508, Patient 558, Patient 579, Patient 614, Patient 631, Patient 659, Patient 728, Patient 743, Patient 802, Patient 803, Patient 804, Patient 822, Patient 844, Patient 872, Patient 873, Patient 886, Patient 927, Patient 943, Patient 945, Patient 954, Patient 974, Patient 975, Patient 986, Patient 988, Patient 1005, Patient 1012, Patient 2013, Patient 649, and Patient 650.
They had tested negative for the coronavirus for at least three times before being discharged from Hoa Vang District Field Hospital in Da Nang. All will continue to be monitored during a 14-day home quarantine as per the Health Ministry regulations.
This was the unprecedentedly high number of recoveries. The hospital arranged vehicles to bring the recovered patients back home.
The same day, three patients treated at the Da Nang Lung Hospital were announced to be free from the coronavirus.
Viet Nam reported no new COVID-19 cases on August 27 morning, keeping the national tally at 1,034, according to the National Steering Committee for COVID-19 Prevention and Control.
So far, as many as 632 patients have recovered and there have been 29 COVID-19-related deaths so far.
Among the current active cases, 41 have tested negative for the coronavirus SARS-CoV-2 once, 52 twice and 51 thrice./.
By Khanh Phuong