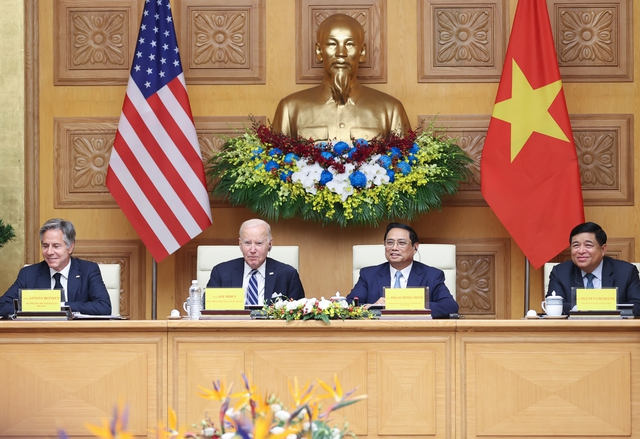 The agreement was reached by the pair at the Viet Nam-U.S. high-level conference on innovation and investment held in Ha Noi on Monday as part of President Biden's two-day State visit to Viet Nam.

In a statement released the same day, Viet Nam and the U.S. decided to strengthen science, technology, and digital innovation cooperation, regarding this as a new breakthrough of the comprehensive stategic partnership.
The U.S. affirmed its commitment to increasing support for Viet Nam in the training and development of a high-tech workforce.
Acknowledging Viet Nam's tremendous potential as a major player in the semiconductor industry, the two sides' leaders pledged to support the rapid development of Viet Nam's semiconductor ecosystem and to work together energetically to improve Viet Nam's position in the global semiconductor supply chain.
Toward this end, Viet Nam and the U.S. announced the launch of semiconductor workforce development initiatives – supported by initial seed funding of US$2 million from the U.S. government, in conjunction with future Vietnamese government and private sector support.
Both countries also pledged to comprehensively cooperate in promoting innovation and entrepreneurship.
The leaders of the two countries underscored the importance of continued collaboration between leading academic institutions in the U.S. and Viet Nam, including through joint research initiatives, training courses, fellowships, and exchange programs focused on science, technology, engineering, and math (STEM) fields./.