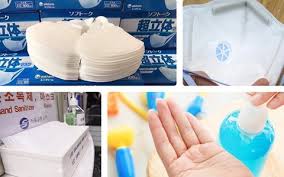 Illustration photo
Accordingly, from February 7 till the day the epidemic ends, commodities will enjoy import tax exemption including medical masks; antiseptic dry hand sanitizer; raw materials for manufacturing medical masks (including non-woven fabrics, antibacterial filters, elastic bands, nasal splint strips); antiseptic water; epidemic prevention suits (including clothing, glasses, helmets, shoes, gloves, medical masks) and other necessary medical supplies.
The Ministry of Finance also recommended the Prime Minister assign the Ministry of Health to import more medical masks to meet domestic demands and suggested the Ministry of Foreign Affairs encourage international organizations and Overseas Vietnamese to support and provide medical supplies to fight against the epidemic.
Earlier, at the monthly Government plenary session on February 5, the PM proposed the Ministry of Finance join hands with other ministries to submit the tax exemption on medical masks.
Earlier, the Government Office released a document on the Prime Minister's direction for ensuring health equipment and materials for containing the spread of novel coronavirus (nCoV) epidemic.
The Prime Minister decided to supply five tons of Chloramin B from the national reserves to the Ministry of Health to handle the nCoV epidemic.
The Ministry of Health on February 7 confirmed that a 29-year-old female resident in Binh Xuyen, the northern province of Vinh Phuc was tested positive for the nCoV, becoming the 13th nCoV patient in Viet Nam./.
By Thuy Dung