The talk-show on social security – For practical benefits of Vietnamese, April 02, 2010 – Photo: VGP/Nhật Bắc

The talk-show was attended by Minister of Labors, War Invalids and Social Affairs Nguyễn Thị Kim Ngân and many senior officials from the Ministry.

Tackling poverty, bringing in the better life

Facing the global financial crisis' impacts, the Government has quickly issued 20 policy groups and 50 special policies of social security during the last 2 years to enhance the life of its citizens, the Minister informed.

Among them, Resolution 30a/2008/NQ-CP (Project 30) on quick and stable poverty reduction in 62 poorest districts throughout the country placed an important duty on the Government's shoulders to oversee the well development of the whole society.

Currently, the country's poverty standard, defined five years ago, is very low with 60% of the total expense for food expense and the remaining 40% for other needs, the minister said. This standard is expected to be adjusted to meet up with international one while bringing in a better living standard for the people.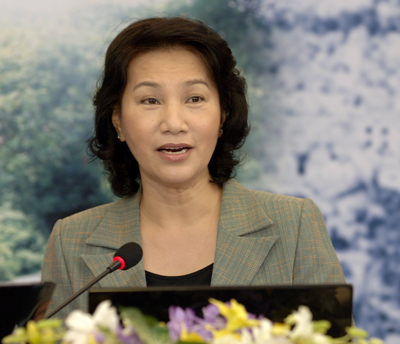 Minister of Labors, War Invalids and Social Affairs Nguyễn Thị Kim Ngân - Photo VGP
/Nhật Bắc
Deputy Director of the Social Sponsoring Department Nguyễn Xuân Lập said that only 1.3 million of Vietnamese receive their monthly pension at family, community and social supporting centers.
The Government classified only 9 beneficiary groups to receive supports including orphans, supportedless elders; old-aged citizens (at least 85 years old) without retirement or social pension; handicapped; mentally-ill citizens; HIV-affected people who cannot work; orphan adopters; households with two handicapped members or more; and small children-raising poor single citizens.
In reality, many extremely poor households do not receive assistance as the poverty evaluation is not carried out democratically enough by the local authorities, the Minister showed her concern. She called upon the Government to organize more training workshops to equip skills to its grassroots cadres.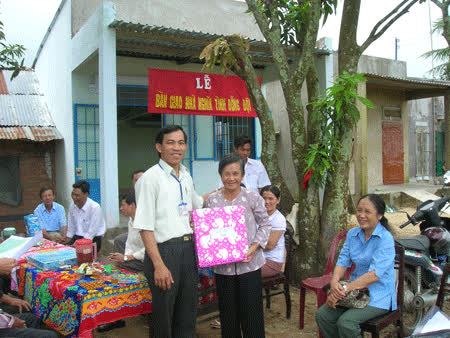 Thanks to assistance from the Government and donors, many poor households in Việt Nam have received good houses to shelter in - Illustration photo
Supporting the society
The Minister appraised many concrete and practical efforts taken by the Government to ensure the national social security, particularly the construction of public housing for the poor, orphans and the elders.
Besides, the Government has decided to expand the pension standards for its sponsoring centers to maintain their operations. At the same time, it provides low-interest loans to the poor.
Importantly, citizens of 62 poor districts will receive free education so that they will be equipped with necessary knowledge on how to make their own lives better.
Securing jobs for Vietnamese
Statistics show that Việt Nam had about 133,000 workers who lost their jobs in 2009 due to the global financial crisis. Minister Ngân emphasized that the figure was actually lower than the yearly estimation while showing great sincerity of the Government in its fight against unemployment.
"We must drastically adopt more socio-economic development programs to boost national production while ensuring jobs for people," she urged.
According to Deputy Director of the Employment Department Nguyễn Thị Hải Vân, a VND 4,000-billion National Fund was founded in 1992 to give loans for business production while creating up to 300,000 jobs a year.
Meanwhile, people in poor districts are qualified for labor export. The Government will also draft and implement concrete labor codes to protect its workers, especially codes on working safety, Acting Director of the Labour Safety Department Vũ Như Văn said.
Also, more policies have been issued to supervise FDI investors closely on how they exploit their workers and to impose strict rules and regulations for foreign workers in Việt Nam, the Minister affirmed.