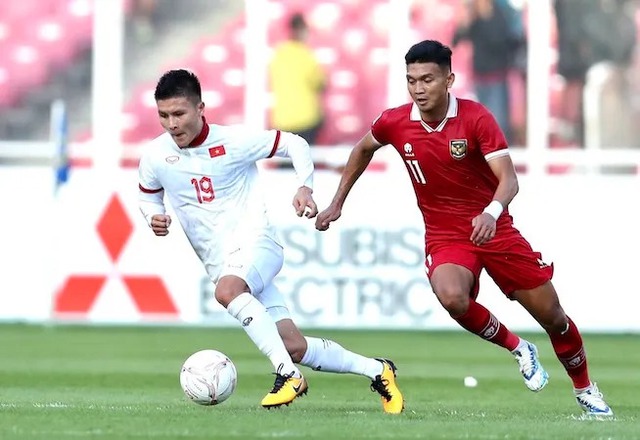 At the Gelora Bung Karno Stadium which was filled with more than 50,000 spectators, Viet Nam grabbed better possession throughout the game. Even though they did earn several corners on a trot, they just could not make any of them count.

Meanwhile Indonesian Marselino Ferdinan and Yakob Sayuri stood outs to threat the visitors' net. However the Indonesian forward line just could not come close to beat Vietnamese keeper Dang Van Lam.
The Vietnamese side faced with strong attacks of the host side but did enough to fend off the onslaught. Meanwhile Lam, with his amazing performance, denied all of their attempts.
Speaking at the post-match conference, coach Park Hang-seo of Viet Nam was pleased with the result and said his stronger side did grabbed their target for the match.
"Matches on away ground were always difficult. This match was more special when (Viet Nam) had to play under Indonesian supporters' ecstasy," said Park.
"However, my players did good job with Viet Nam spirit. Despite a draw result, we consider it a win because we completed our mission.
"I want to congratulate my players who played best in all 90 minutes," he said.
South Korean Park has received positive results against Indonesia in his five years taking charge of Viet Nam. He scored two wins and one draw. The January 6 semi-final draw lengthened his undefeated streak against the Indonesian archrival.
"Yes, Indonesia is a strong team but I think we are stronger. Shin (Tae-yong) leads a team with naturalized players. In recent two years, they have developed a lot. But we beat them 4-0 at the World Cup qualification; drew 0-0 at the AFF Cup and won 3-0 at the 2022 SEA Games. And I am glad with today result," he said.
Goalie Lam in an interview after the game was confident that Viet Nam would beat Indonesia in the second leg match on January 9 in Ha Noi.
"The atmosphere on Bung Karno Stadium was wonderful. I felt strong pressure from the (Indonesian) crowd but the important was that Viet Nam kept a clean sheet," Lam said.
"My defenders were good, contributing a lot in saving my net. It was pity that we could score a goal. We will try harder in the second leg match," said Lam whose net was safe in 450 minutes at the biennial Cup.
Lam, who was the best Vietnamese player of the match, set a new record, beating his old one of 405 minutes at the 2018 AFF Cup.
On the other side, coach Shin Tae-yong said his Indonesia was different compared to the past and they were not scared of Viet Nam anymore.
"Our mindset and fitness and everything are better. From now one, (Indonesia) no need to be worried and scared of playing on Viet Nam's ground, " said Shin.
The South Korean tactician previously underestimated Viet Nam as saying the two-time champion could keep their sheet clean because their rivals in the group round were too weak
"We no need to overestimate the strength of the Vietnamese team. I will prepare as best as possible for my players. Let's wait and see," he added.
Indonesian captain Fachruddin Aryanto remained sanguine about the team's chances of making the final.
"We worked hard tonight. Even though we did not win, we also did not lose," said the 33-year-old Klaten native.
"We played hard and I think that we have every chance to make the final."
Both Indonesia and Viet Nam arrive in Ha Noi on January 7.
They will have one and a half day to prepare for the return tie set for January 9 at the My Dinh Stadium.
According to the away goals rule, the host must win while Indonesia only needs a score draw to advance to the final./.