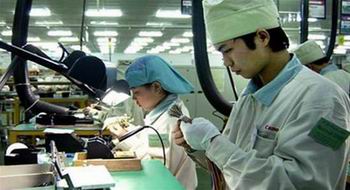 Speeding up export is considered the most appropriate solution for trade deficit in Việt Nam – Illustration photo
The trade deficit was US $3.4 billion in the first quarter, including nearly US $1 billion for mobile phones, accounting for 23.5% of the reviewed period total import value.
Noticeably, input imports to serve domestic production increased by 37.7% in the first three months or equivalent to 78.8% of the total import spending. Other groups of commodities under strict control rose by 11.7%, especially gold import surged 800% against the same period last year.
While the public showed concern over the high trade deficit figure, the MIT, however, pointed out five reasons why the problem is not so thorny.
First, though import jumped 40.2% in Q1 this year, it was 17% less than the figure of the same period of 2008.
Second, import value downsized on month-to-month basis. In March, export jumped 49.5% but import only 33.1% up.
Third, import ratio between foreign-funded and locally-funded enterprises was much different, posting respectively at 57.3% and 30.4%.
Fourth, most of the imports are input materials for production. However, prices of some materials hiked, imposing more burdens on export businesses.
Fifth, the trade deficit of Q1 was quite acceptable compared to 64% in the same period of 2008.
The MIT said that its top priority for the rest of the year is to reduce the trade imbalance, focusing on imposing strict regulations on the import of luxurious commodities like cars, mobile phones and some other non-essential foodstuff, agriculture-forestry-aquaculture products.
The most dominant challenge is that the import value of input materials amounted to 88% of the import structure.
Under the PM's guideline, the MIT is enlisting made-in-Việt Nam products which can replace the imported equivalents.
Above all, boosting export is considered the optimal solution in current context.
The MIT expects to keep the trade deficit around 20% as set by the NA.
By Hải Minh