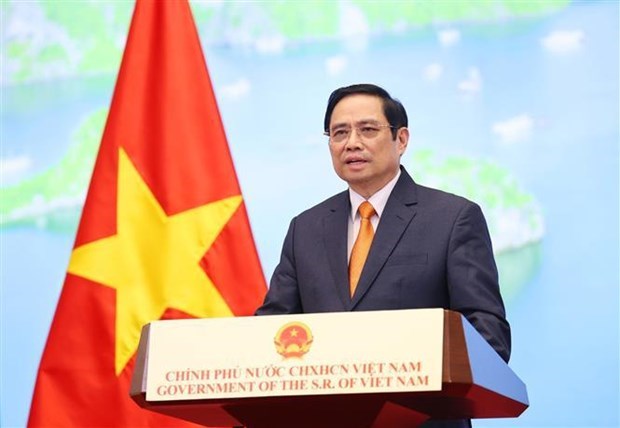 Prime Minister Pham Minh Chinh. Photo: VGP
>>> Full remarks by Prime Minister Pham Minh Chinh at 2021 Global Trade in Services Summit
Vietnamese Prime Minister Pham Minh Chinh made the above statement in his video remarks to the opening ceremony of the 2021 Global Trade in Services Summit held virtually on September 2.
Moreover, stepping up cooperation in digitalization is a key contributor to an environment of peace, stability, cooperation, and development among countries and peoples across the world, PM Pham added.
Reality has shown that the development and application of science and technology have ushered in tremendous benefits as they have enabled economies to transform their growth models, make better use of available resources, and promote the flow of capital, goods, and services at an unprecedented scale and magnitude.
Pham said Viet Nam has been accelerating digital transformation of the economy, and the development of digital economy and society.
From that perspective, the Government chief suggested the need to harness opportunities presented by the fight against COVID-19 to kick-start digitalization, with the focus on digital technology and digital economy, in order to soon realize the UN 2030 Sustainable Development Goals.
Viet Nam looks forward to the active and effective cooperation of the international community to ensure that digitalization is truly a new method for narrowing not only the development gap among countries, but also social inequalities.
PM Pham emphasized that such cooperation will also help ensure that people living in underdeveloped or remote areas can enjoy equal access to services provided through digital platforms.
Pham also underlined the necessity to uphold the role of international agreements on digital technology and digital economy as they would drive the development of these areas, while safeguarding the legitimate demands of countries in ensuring cyber security and safety, and personal privacy, preventing monopoly and eliminating inequality in tax obligations.
In this spirit, Viet Nam has participated in shaping new norms pertaining to e-commerce in free trade agreements, most recently ones being the Regional Comprehensive Economic Partnership (RCEP) and the ASEAN - China Free Trade Area (ACFTA).
Pham stated that Viet Nam welcomes China's ideas and efforts in these areas, and stands ready to work with China and other countries to formulate an appropriate legal framework, with a view to promoting the healthy, rapid, suitable, extensive, effective and harmonious development of our digital economies, for the common interest of the whole society./.
By Huong Giang