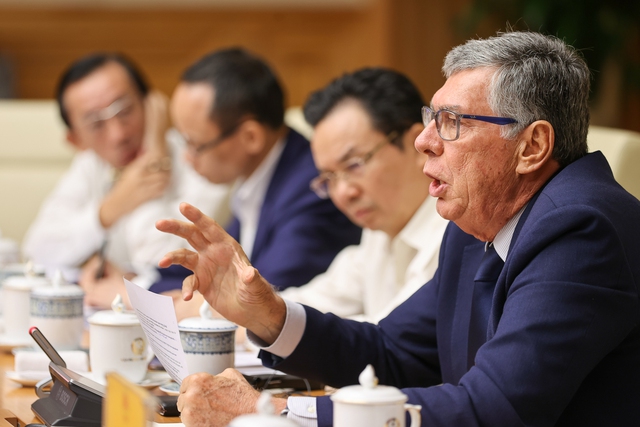 Chairman Alain Cany made the assessment at a Government's conference in Ha Noi on September 12 to continue seeking measures for keeping macroeconomic stability, controlling inflation, boosting growth, and ensuring major balances of the economy in the current context.
Strong and forward-looking government
Alain Cany said that Viet Nam's recovery has been ensured by strong and forward-looking government support which helped to bring in more high-profile FDI projects, many in high-quality manufacturing (i.e. LEGO, Samsung, Apple), accelerate GDP growth, reopen the country to foreign travellers and workers, and create stability despite global economic instability.
Mr. Alain Cany quoted EuroCham Business Climate Index (BCI) result as saying that domestic situation is still in control. Viet Nam has opportunities right now and need to open more including tourism visa regulations, FDI attraction in energy sector and PPP.
However, the Chairman also voiced green risks affecting Viet Nam's development path and future as the world is changing, requiring countries to readjust or face big problems.
Environmental disasters becoming more regular and harsh. Without major changes, some parts of society will get left behind especially those near ocean. Inclusive and sustainable growth needed to eliminate poverty, ensure future wealth. If no green growth, development and security (i.e. energy security, resource access, food security, etc.) will be harmed.
Developing countries like Viet Nam can and should build an advanced, developed economy built on sustainable practices to generate future wealth. This will catch new investment flow from developed countries, he added.
The Chairman also made proposals on Viet Nam's Power Development Plan 8 (PDP 8), visa/work permit policy, and PPP models in order to keep macroeconomic stability, controlling inflation, boost growth, and ensure major balances.
Reduce restrictions on foreign investment
Chairman Alain Cany said that "Funding difficulties – domestic financing is helpful, but much more external support is essential.
He suggested Viet Nam mobilize private funding sources through: (1) Green credit by banks, (2) Developing market-based tools like green equities/green bonds, (3) Using de-risking tools to increase investor confidence, (4) Allow private investment in critical grid infrastructure and encourage green investment throughout green sectors - will help with tech/knowledge transfers, funding, R&D capabilities.
The EuroCham Chairman assessed that the current regulatory framework is insufficient - missing critical components and is often unclear.
He proposed stable, predictable policies and a clear regulatory framework to give investors the confidence to invest and operate, encourage service providers for rooftop solar for factories, clear incentives for credit providers and borrowers, public-private infra partnership legal framework must be developed and optimized.
The Chairman recommended Viet Nam get investors and international institutions more involved in decision-making to reflect their needs and concerns, direct power purchase agreement (DPPA) pilot scheme would give consumers access to low-cost electricity and would reduce grid pressure,.
DPPA bankability problem needs to be addressed and clarified, DPPA should be thoroughly implemented, reduce front-end regulatory barriers to behind-the-meter clean energy plants, the Chairman added.
According to Mr. Alain Cany, offshore wind power, leasing and offtake processes are unclear. Hence, he suggested the country create major risks for foreign investors.
For transparency and accountability in infrastructure FDI attraction and management, administrative reforms should be accelerated.
Despite large workforce (nearly 55 million), Viet Nam lacks human capital to attract and maintain high-quality green projects.
The Chairman proposed Viet Nam focus on training programs for high-skilled jobs that will boost the country's green economy and reduce restrictions on foreign investment.
On this occasion, the Chairman suggested that EuroCham Viet Nam will host the "Green Economy Forum & Exhibition (GEFE) 2022" from November 28 to 30 at Sala's THISO SkyHall in Ho Chi Minh City. The event's primary objective is to support Viet Nam in achieving its COP26 commitments and the socio-economic development goals specified in its National Green Growth Strategy for 2021-2030.
Extending visa exemption window
Chairman Alain Cany assessed that the country has still reopened, but tourism has not reached the level it should because of visa difficulties for European travellers.
The EuroCham recommends visa exemptions for all EU Member States, not just a select few and extend the visa exemption window to 30 days instead of 15.
"Work permit policies are burdensome and prevent foreign experts in priority sectors to come to Viet Nam", said the Chairman.
For foreign experts coming for technical support, visa windows should be extended to three to six months, he added.
The Chairman proposed Viet Nam simplify foreign work permit procedures in general.
Open mechanisms for foreign investors
Chairman Alain Cany said that a public-private partnership (PPP) can be used more in building road, railway, airport, ports and open mechanism for foreign investors.
Last but not least, the EuroCham recommends administrative procedures need to be reformed, authorities need to be decisive in decision making, avoids asking in circles, and avoid new fee or increase free/cost for companies./.