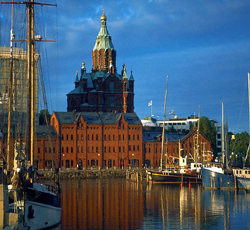 A city of the Republic of Finland – Illustration photo
This is the first state visit of a Vietnamese President to the Republic of Finland.
The two countries established diplomatic ties in 1973. Finland regards Việt Nam as one of eight "partners for long-term cooperation and development." At the Consultative Group (CG) Meeting, held on December 4, 2009 in Hà Nội, Finland committed US $49.58 million in ODA to Việt Nam in 2010, bringing the total to US $400 million.
The bilateral economic, trade and investment relations have seen positive progress. The two-way trade turnover stood at US $230 million and Finland's direct investment valued over US $ 60 million in 2009.
The Agreement on Investment Encouragement and Protection, inked by the two governments during a state visit of Finish President Tarja Halonen to Việt Nam in February 2008, has created a significant legal basis for closer trade and investment linkages between the two countries.
According to the latest survey of the Finnish Business and Society (FiBS), Việt Nam ranked the second after China among the most attractive Asian destinations for the Finnish business community.
In education and training field, around 500 Vietnamese students are studying in Finland. In November 2006, the Finnish Foreign Ministry chose Việt Nam as the only Asian country to receive funding during the second phase of its North-South-South education exchange program.
Labor cooperation is also a potential domain in the bilateral ties. In 2008, Việt Nam was the first and sole nation outside the Europe to send guest workers to the Nordic country under a pilot cooperation model of "immigration labor"./.
By Kim Anh