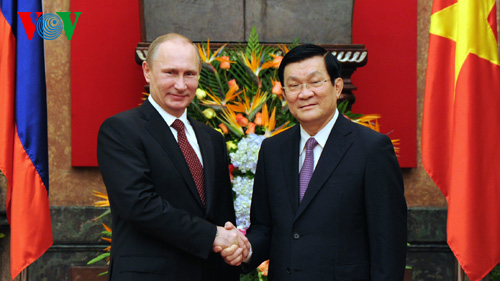 State President Truong Tan Sang (R) shakes hands with his Russian counterpart Vladimir Putin, Ha Noi, November 12, 2013 – Photo: VOV
The two Heads of State highly valued the lifting of the bilateral ties to comprehensive strategic partnership which has opened up new opportunities to beef up wide-ranging mutually beneficial cooperation.
The two sides held that the political ties have progressed vigorously with high trust, agreeing to launch more mechanisms of reciprocal high-level exchanges and contacts and expand cooperative channels at all levels.
They acknowledged that two-way trade developed strongly and is expected to touch US$ 4 billion in 2013. However, the economic, commercial and investment cooperation do not yet match the political relations, the size of their economy and respective potentials.
The two leaders stressed the necessity to take breaking measures to spur the trade and investment ties, allocating resources in a highest manner for the early signing a Free Trade Agreement between Viet Nam and the Belarus-Kazakhstan-Russia Customs Union and successful realization of prioritized investment projects within the Framework of Viet Nam-Russia High-level Working Team.
Both State President Sang and his Russian counterpart V. Putin emphasized a priority on energy linkages especially petrol and nuclear power and voiced support for joint-ventures to implement existing projects and craft new ones in Viet Nam and Russia.
They agreed to enhance cooperation for the building of Ninh Thuan 1 nuclear power plant by using state-of-art technology and ensuring safety, efficiency, quality and continuing to coordinate in manpower training in the field.
Viet Nam and Russia affirmed further cooperation in other areas such as mineral exploitation, transport including civil aviation, shipbuilding, manufacturing, communication and telecom.
The two leaders also acknowledged the need to strengthen local linkages in a practical and efficient manner and consider a possibility for building a light industry zone in the Russian Far East.
Both sides appreciated the cooperation in national defense and military technology, which is of high trust and in line with international laws in favor of sustainable peace, stability and development in Asia-Pacific.
The two leaders were unanimous in consolidating cooperation in security, information sharing and consultations on issues of common concern; shaking hands in anti-terrorism; combating crime and strengthening technical linkages and training.
The two sides showed high consensus on international and regional issues of mutual concern and affirmed continual coordination at international forums especially APEC, ARF, EAS, ASEM, and ADMM .
On the occasion, the two leaders witnessed the signing ceremony of 17 cooperative documents on economics, trade, banking, national defense, petrol, healthcare and education. These documents are expected to perfect the legal basis for bilateral cooperation and develop the comprehensive strategic partnership in the coming time. /.
By Huong Giang