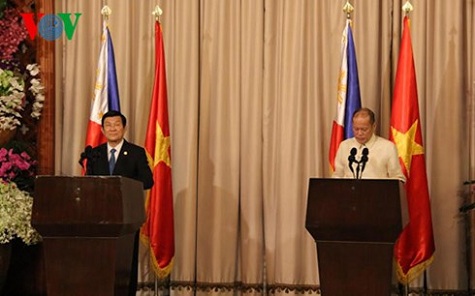 Photo: VOV
The two leaders said that the establishment of the Strategic Partnership between Viet Nam and the Philippines is crucial, opening a new era in the two nations' relationship and contributing to the regional peace, prosperity and stability.
They lauded the developments in bilateral relationship in all fields and exchanged measures to promote the Strategic Partnership in the future.
The host and the guest consented to maintain and enhance high-ranking delegation exchanges and organize activities to celebrate the 40th anniversary of the establishment of diplomatic ties in 2016.
The Philippine President affirmed that Viet Nam continues to be the key rice provider for the Philippines, proposing the two sides boost cooperation in search and rescue.
State President Sang thanked the Philippines to release Vietnamese fishermen it had captured over recent times, suggesting the Philippine side consider the release of more Vietnamese fishermen.
In addition to bilateral cooperation, the two leaders discussed issues of international and regional concerns.
The Philippines promised to share the experience in hosting APEC meetings, saying it will consult with Viet Nam on its joining of the Trans-Pacific Partnership Agreement (TPP).
They agreed to promote solidarity and maintain the central role of ASEAN in addressing issues related to the benefits of each nation and the region.
They reiterated the importance of ensuring peace, stability, security, safety, and maritime and aviation freedom in the East Sea, and settling disputes at sea in line with international law, including the UN Convention on the Law of the Sea (UNCLOS).
On this occasion, the two Presidents witnessed the hand-over of a protocol supplementing the rice trading agreement between the two countries for 2014-2016.
By Thuy Dung