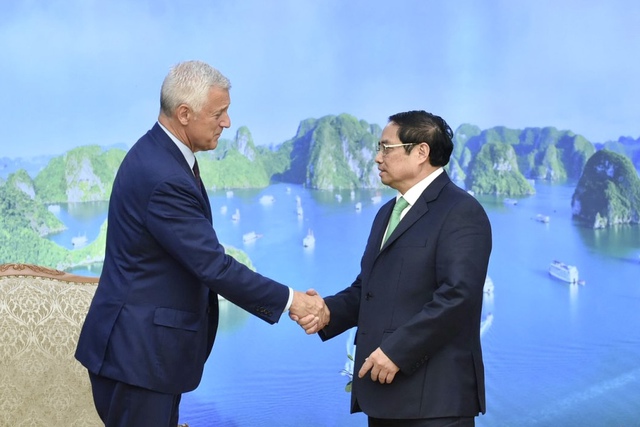 Chief Executive Officer of Standard Chartered Bill Winters made that above statement during his meeting with Prime Minister Pham Minh Chinh in Ha Noi on September 5.
Bill Winters stated that the bank will continue to accelerate cooperation with the Vietnamese Government agencies in national credit rating.
He expressed his hope to strengthen consultation, policy dialogue and capacity building activities with the Vietnamese side in the upcoming time.
For his part, Prime Minister Pham spoke highly of foreign businesses and investors, including Standard Chartered, for advocating and cooperating with the nation throughout the process of COVID-19 containment, socio-economic recovery, and development process.
The Vietnamese Government commits to creating favorable conditions for the bank to expand operation in the country, emphasized Pham.
The Government chief called on Standard Chartered to increase assistance for Viet Nam in fostering digital transformation, green conversion and energy transition towards sustainability and climate change adaption.
He expected that the bank will facilitate Vietnamese businesses and foreign investors to get access to preferential capital to invest in strategic infrastructures such as digital and green infrastructures and key infrastructure projects.
Pham hoped that Standard Chartered will continue policy dialogues with Viet Nam's agencies in fields of stabilizing the macro-economy, controlling inflation, maintaining high growth and ensuring major balances of the economy to achieve socio-economic development goals set for 2023 and upcoming years.
* The same day, under the witness of Minister of Natural Resources and Environment Tran Hong Ha and the Chief Executive Officer of Standard Chartered, Director of the Department of Climate Change Tang The Cuong and CEO of Standard Chartered Bank in Viet Nam Michele Wee signed a Memorandum of Understanding on cooperation in climate change response.