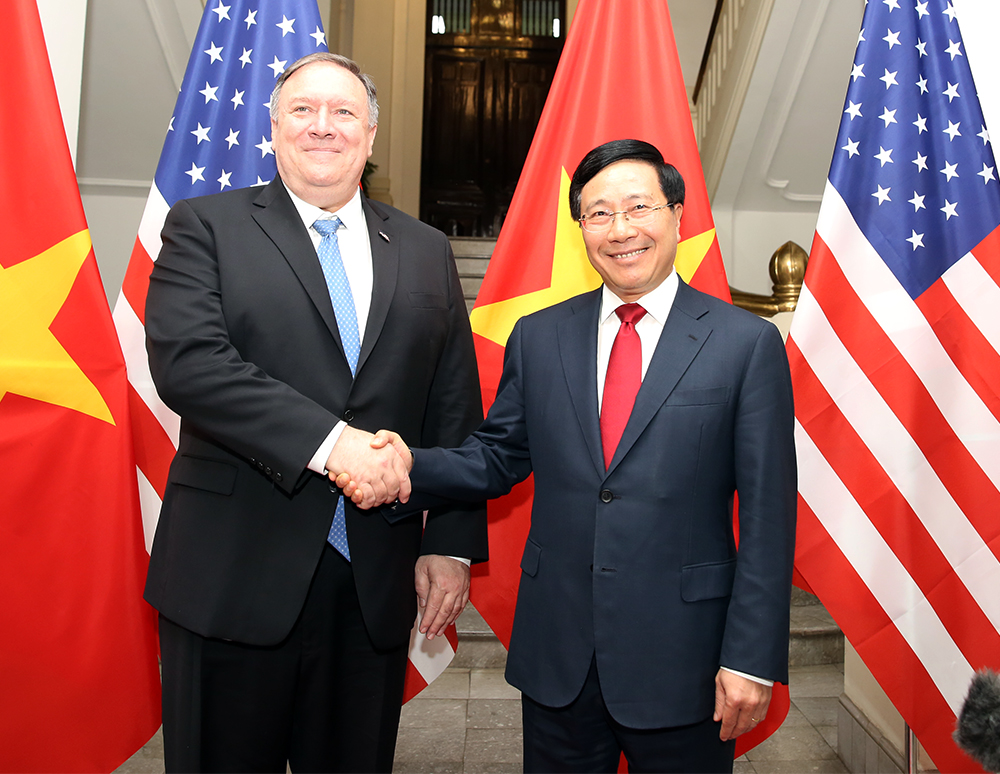 Deputy PM, FM Pham Binh Minh and US Secretary of State Micheal Pompeo at the Headquarters of the Ministry of Foreign Affairs in Ha Noi on Feb. 26, 2019. Photo: VGP/Hai Minh
This is the second talks between the pair the headquarters of the Ministry of Foreign Affairs over the past seven months and 17 days.
Pompeo went on to say the US will continue working with Viet Nam to further advance bilateral cooperation in a more practical and effective manner in the future.
He also wishes for a strong, independent, and prosperous Viet Nam and the Southeast Asian country will play an increasingly important role in the Indo-Pacific region.
The US Secretary of State highly appreciated Viet Nam for having offered venue for the second DPRK-USA Summit, expressing Viet Nam will continue its active contribution to the denuclearization and lasting peace process in the Korean peninsula.
Meanwhile, Deputy PM, FM Minh highly valued the DPRK and the US for having chosen Viet Nam as the venue for the second Trump-Kim Summit, expressing his hope for a successful meeting in order to contribute to accelerate the denuclearization and lasting peace process in the Korean peninsula.
Viet Nam treasures the comprehensive partnership with the US that both side established in July 2013 on the occasion of Vietnamese State President Truong Tan Sang's visit to the US, reiterated Minh.
He was glad that the bilateral ties have grown positively and comprehensively across fields like trade, investment, education, overcoming war consequences among others.
Both sides agreed to give priority to delegation exchanges, especially high-level visits and contacts in 2015, consider trade and investment as a driving force for the two countries' relationship.
Minh called on the US to continue support for ASEAN centrality and solidarity and for stronger cooperation between ASEAN and the US.
Regarding the East Sea issue, the pair reaffirmed their support for settling disputes in the East Sea through peaceful measures in line with international law, including the 1982 UN Convention on the Law of the Sea, for full respect for diplomatic and legal processes and effective and full implementation of the Declaration on the Conduct of Parties in the East Sea (DOC) and for early conclusion of a Code of Conduct in the East Sea (COC)./.
By Quang Minh