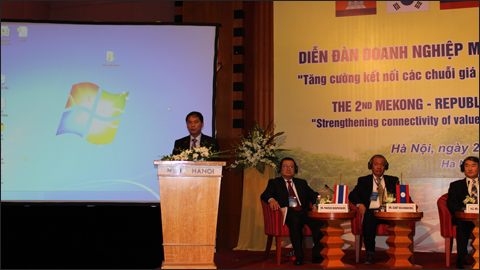 Photo: VNA
Speaking at the opening ceremony, Deputy PM Bui Thanh Son said the organization of the forum constitutes Viet Nam's commitments not only to the Mekong–RoK cooperation but also to developing Public–Private Partnership (PPP) and creating favorable conditions for businesses.
Through the forum, Viet Nam desires to listen to specific proposals of businesses from the RoK and the Mekong region about cooperative measures and projects, he added.
Korean Deputy Minister of Foreign Affair Cho Tae-Yong stressed the role of the Mekong region in the RoK-ASEAN cooperation.
He asserted that the RoK Government hopes to accelerate the cooperative relations with other nations in the Mekong region and supports these nations to narrow development gaps.
Since last year, the RoK has launched the Mekong-RoK Cooperative Fund to help nations in the Mekong region to establish a transport network and resources for this region, he said.
The forum also discussed the business environment and investment and chances to strengthen the connection of demand-supply value chain in the Mekong region in general and the RoK in particular.
By Thuy Dung