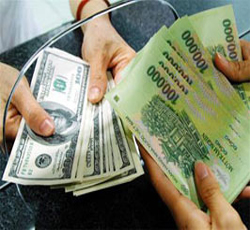 The State Bank of Việt Nam pledges to uphold even exchange rates – Illustration photo
The SBV reported that since late March 2010, the foreign exchange market has operated smoothly and the supplies of foreign exchanges are now abundant enough to meet the demands for foreign exchanges of people and enterprises.
Credit organizations can purchase foreign currencies to serve their customers and even sell the surplus to the SBV.
As of mid April, the SBV has bought over US $1 billion from these credit organizations for the national reserve.
When the macro-economic indicators are quite stable, the SBV pledges to maintain even exchange rates./.
By Kim Anh