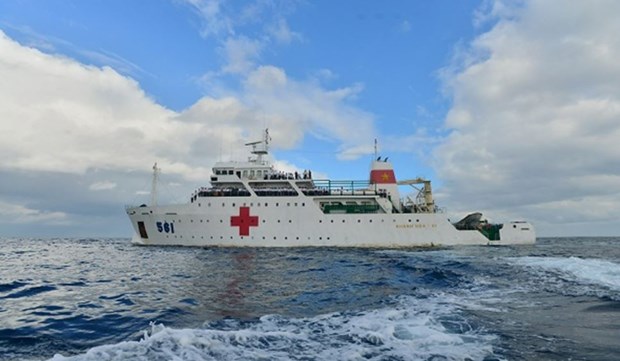 The program targets to consolidate and improve the quality of medical services for soldiers and residents in island localities, contributing to achieving targets set in the Strategy for Sustainable Development of Viet Nam's Sea-based Economy by 2030, with a vision towards 2045.
By 2025, 40 percent of the hospitals and medical centers in island districts will be able to perform surgical operations using the techniques like those of a Level-2 hospital.
Up to 70 percent of provincial and municipal disease control centers, health centers of cities, towns and districts, and military preventive health facilities in the coastal provinces will be upgraded. The numbers are expected to reach 70 percent and 100 percent, respectively by 2030.
By 2025, 70 percent of the offshore fishing boats will be equipped with medicine cabinets and medical tools, and 80 percent of ocean-going ships will follow international regulations on maritime medicine.
Some 80 percent of the island residents will also be equipped with knowledge and skills of health care. All of the figures are set to rise to 100 percent after five years.
The program has set out major solutions including enhancing the leadership and instruction over maritime medicine, strengthening preventive healthcare capacity in sea and island areas; consolidating and improving medical check-up and treatment capacity; raising first-aid and patient transportation capacity; developing a contingent of health workers for sea and island areas; building specific norms and standards for maritime medicine; and accelerating the communications work and health education for island residents.
Cooperative mechanisms among emergency centers of coastal localities in Hai Phong, Da Nang, Khanh Hoa and Ba Ria-VungTau, and maritime search and rescue centers, naval force, coast guards and border guards will be strengthened.
Naval force, coast guards, border guards and search and rescue ships will also get medical equipment.
The Prime Minister has assigned the Ministry of Health and the Ministry of National Defense to put forth specific tasks and present them to competent agencies for approval, or approve them within their power./.