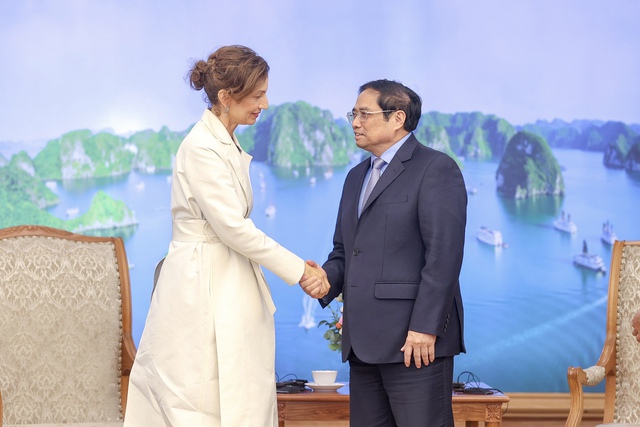 Prime Minister Pham Minh Chinh affirmed that Viet Nam always attaches importance to cultural development, considering culture as a driving force, a goal and a spiritual foundation for national development.

Prime Minister Pham Minh Chinh hoped that UNESCO will continue to consider recognizing Ha Long Bay-Cat Ba Islands, Yen Tu Relics and Landscape Complex as world heritage as well as other heritage records of Viet Nam.
The Prime Minister affirmed that Viet Nam would continue to promote its role as an active and responsible member of UNESCO, actively participating in activities and contributing to the organization's efforts for peace, cooperation and development of member countries.
In particular, Viet Nam will actively promote its role as a member of the UNESCO Executive Council for the term 2021-2025, the Intergovernmental Committee for the Protection and Promotion of the Diversity of Cultural Expressions for the term 2021-2025, the Intergovernmental Committee for the Safeguarding of Intangible Cultural Heritage for the term 2022-2026.
With the desire to contribute actively and proactively to issues that UNESCO and its members are interested in, Viet Nam is running for election to the World Heritage Committee for the term 2023-2027, said the Government chief
On this occasion, the Prime Minister called for UNESCO's support so that Vite Nam could send qualified personnel to work at multilateral organizations, including UNESCO./.