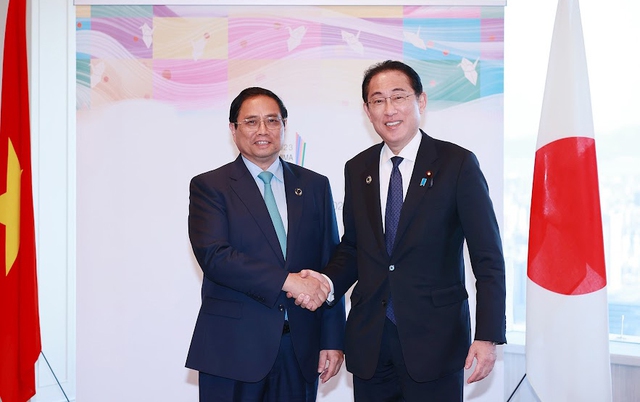 This is the 5th meeting between the two Prime Ministers over the past more than one year, the first meeting between the pair in Hiroshima – the native land of Prime Minister Kishida.

Prime Minister Pham congratulated Kishida and Japan for successfully hosting the G7 summit and outreach meetings and spoke highly of Japan's coordinating role in leading discussions to reach consensus on how to deal with global challenges like food security and emission reduction.
Kishida expressed his pleasure to meet Pham again, welcoming Pham's attendance and active contributions to the overall success of this year's G7 summit and outreach meetings, and highlighting the important position of Viet Nam in Japan's foreign policy toward the region.
In a friendly, cordial and trusted atmosphere, the two leaders expressed their pleasure at the robust, comprehensive, and practical developments of the bilateral ties over the past time, and agreed on major orientations and concrete measures to lift the Viet Nam-Japan Extensive Strategic Partnership for peace and prosperity in Asia to new heights.
The two Prime Ministers agreed to step up defense and security cooperation and connectivity between the two economy through beefing up trade and investment linkages.
They highly appreciated the completion of procedures for the capital commitment of the new-generation official development asssistance program for post-Covid economic recovery, which totals 50 billion yen (US$362 million).
The two leaders also agreed to task ministries and agencies to discuss the possibility of Japan providing new generation ODA with high incentives and simple and flexible procedures for large-scale strategic infrastructure development projects in Viet Nam, including the North-South high-speed railway, urban railway construction, climate change adaptation, digital transformation, green transformation and healthcare.
Both sides said they would direct ministries and agencies to accelerate progress of some current ODA projects, including Cho Ray Hospital 2 and Ben Thanh-Suoi Tien urban railway in Ho Chi Minh City.
Both sides pledged to coordinate their positions over the issues of shared interest at multilateral forums like ASEAN, the United Nations, and APEC.
On the East Sea issue, the two sides underlined the importance of ensuring security and safety of navigation and aviation, settling all disputes through peaceful measures on the basis of international law, especially the 1982 UN Convention on the Law of the Sea, fully implementing the Declaration on the Conduct of Parties in the East Sea (DOC), and moving forwards to early formulation of an effective and substantive Code of Conduct (COC) in the East Sea./.