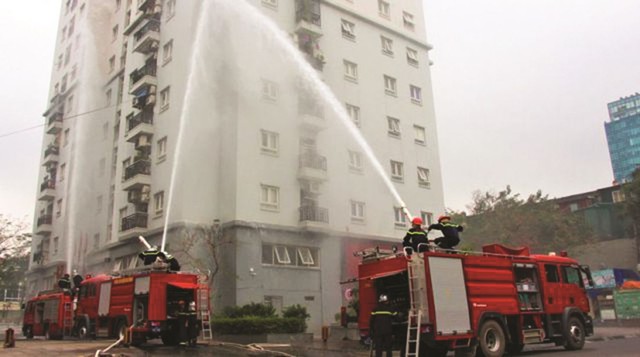 The move was made following a tragic apartment fire in Ha Noi last week, which left 56 dead and 37 others injured.
The ministry was also tasked to put forward urgent measures to enhance fire prevention and control in the time ahead.
Pham also assigned the Ministry of Construction to mull over amendments and supplementation to the current regulations on fire prevention and control for apartment blocks.
The Ministry of Education and Training was assigned to direct educational establishments to immediately organize fire prevention training for students.
The Prime Minister requested Chairpersons of provincial and municipal People's Committees to direct competent authorities to tighten management of grant of construction permits, strengthen construction inspection, while conducting comprehensive inspection of fire prevention at apartment blocks and imposing strict fines against offenders.
The Government leader called on every citizen and every family to improve their own awareness of fire prevention to protect themselves and lives of their relatives./.