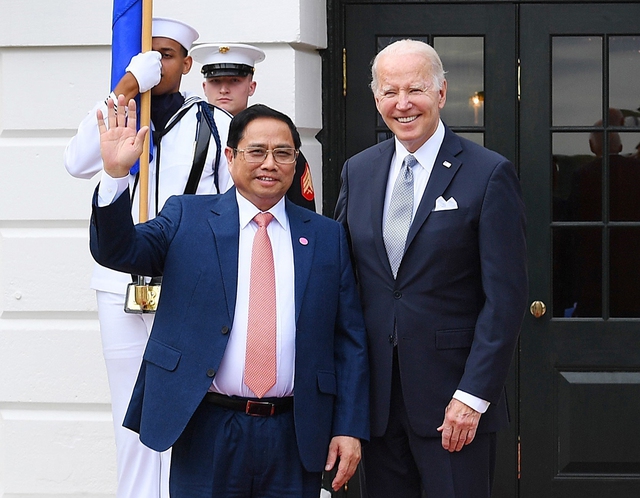 During the meeting, the pair discussed bilateral ties, regional and international issues of shared interests.
Prime Minister Pham congratulated Biden on achievements gained by his Administration since he was sworn in as the 46th President of the U.S.
Biden said the COVID-19 pandemic has been put under control, unemployment rate fell to a record low of over 3.6 percent while over 9.8 million jobs have been created with average wage rising by 5.5 percent.
Pham said the Viet Nam-U.S. relationship is "special" as the two countries have overcome the painful past of war, and are cooperating together to promote their comprehensive partnership in a more practical manner in all areas.
He suggested the U.S. continue supporting Viet Nam in its fields of strengths namely disease prevention, climate change response, digital transformation, diversification of supply chains, and human resource training.
Pham underlined the need to put in place global, multilateral approaches when it comes to solving issues like climate change, disease and other non-traditional security challenges.
Climate change, pandemics, and other non-traditional security challenges are global issues that require countries to put in place a global approach, uphold multilateralism and solidarity to jointly addresses, said Pham.
He expects the U.S. would strengthen cooperation with and support Viet Nam in the development of a green and circular economy, diversification of supply chains, and sustainable energy transition.
Biden stated that he personally has a lot of affections for the country and the people of Viet Nam. When he said when was a Senator, he and his late colleague John McCain lobbied the U.S. to promote relations with Vietnam.
Amid the COVID-19 pandemic, Biden's Administration has galvanized the U.S. Congress to allocate US$21 billion to support countries around the world with vaccines, medicines and medical equipment, and strengthen cooperation with countries to respond to future pandemics.
On multilateral aspect, both Pham and Biden emphasized the need to respect independence, sovereignty, territorial integrity, and political regimes of every nation; to refrain from the use and peacefully settle disputes and conflicts on the basis of international law and the United Nations Charter; and to ensure freedom of navigation and aviation in line with the 1982 United Nations Convention on the Law of the Sea./.