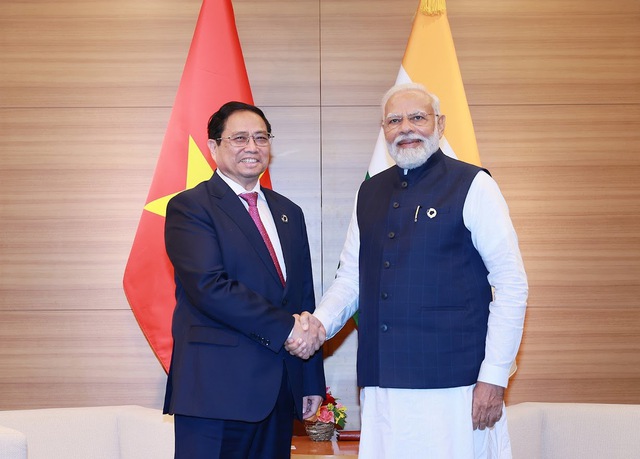 The two Prime Ministers reaffirmed they attach importance to the traditional and long-lasting friendship between Viet Nam and India, discussing measures to realize the vision on advancing the two countries' comprehensive strategic partnership.

Prime Minister Pham congratulated on India's achievements gained under the leadership of Prime Minister Modi, especially in economic growth and science and technology, as well as its rising role and position in the region and the world.
As both countries share many strategic interests, Prime Minister Pham suggested both countries continue multi-faceted cooperation, giving priority to promoting political-diplomatic ties and cooperation in such areas like trade, investment, service, finance-banking, tourism, science and technology, innovation among others.
Pham also called on both sides to strengthen coordination in dealing with common challenges in the context of multiple crises and uncertainties across the world.
Prime Minister Modi expressed his pleasure to meet Pham again, affirming that Viet Nam is one of India's trategic partners of top importance.
He thanked Viet Nam for having attended the South Forum, contributing to enhancing the voice and role of developing countries.
Modi said economic and trade cooperation will still remain an important pillar of the Viet Nam-India relations. Given this, both sides discuss concrete measures to facilitate their business circles' market access and investment into respective countries.
Both sides agreed to continue promoting the role of consultation mechanisms and dialogues, expand cooperation in the domains of both sides' strength, and coordinate closely and share positions on regional and international issues of shared concern at both bilateral and multilateral levels.
The two Prime Ministers underlined the importance of maintaining peace, stability, security, safety and freedom of navigation and aviation and upholding international law.
They called on parties to fully and effectively implement the Declaration on the Conduct of Parties in the East Sea and soon reach a practical and effective Code of Conduct in the East Sea that is in line with international law, including the 1982 UN Convention on the Law of the Sea; and create favorable conditions for the settlement of disputes in the East Sea via peaceful means.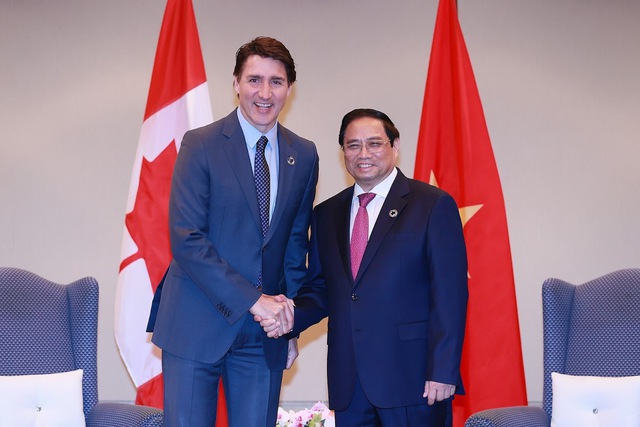 The same day, Prime Minister Pham met with Canadian counterpart Justin Trudeau, during which both sides expressed their pleasure at the fine developments of the Viet Nam-Canada comprehensive partnership, notably, the two-way trade rose to US$7 billion last year.
Prime Minister Trudeau affirmed that Canada treasures the relationship with Viet Nam, and highly values Viet Nam's role and position on the international arena, adding that Japan's invitation to Viet Nam to attend this year's G7 summit and outreach meetings is a clear evidence of the Southeast Asian nation's rising role and position. Prime Minister Trudeau also said he supports Viet Nam's development path.
In the face of the current global economic slowdown, Viet Nam and Canada need to strengthen connectivity, cooperation and mutual support, the two Prime Minister agreed.
Prime Minister Trudeau suggested Viet Nam back Canada to foster cooperation with ASEAN; spoke highly of Viet Nam's participation in the UN Human Rights Council. The two Prime Ministers said both sides can exchange views on the issues of different opinions via frank and sincere dialogues./.