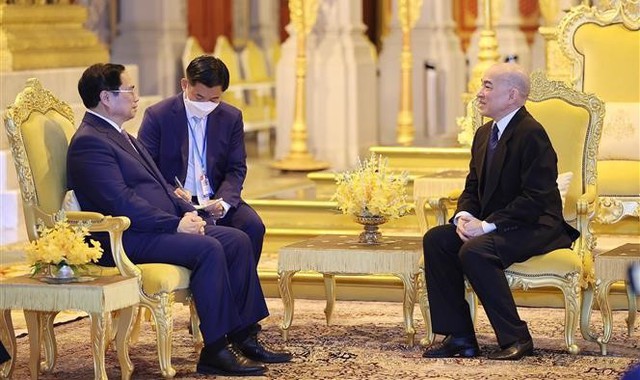 Pham expressed his pleasure to visit Cambodia on the occasion of the 69th Independence Day of Cambodia (November 9, 1953) and the 100th birthday anniversary of late King Norodom Sihanouk (October 31, 1922).

He took the occasion to convey greetings of Party General Secretary Nguyen Phu Trong, Prime Minister Nguyen Xuan Phuc and other high-ranking leaders of Viet Nam to King Norodom Sihamoni and Queen Mother Norodom Monineath Sihanouk.
Pham congratulated on the great achievements gained by Cambodian people in the recent past and its good management of the COVID-19 pandemic, expressing his belief that under the sound leadership of King Norodom Sihamoni, Cambodia will increasingly thrive with rising role and position on the global stage.
King Norodom Sihamoni warmly welcomed Prime Minister Pham to Cambodia, saying his visit is of significant important as it takes place on the occasion of the 55 founding anniversary of diplomatic ties.
He appreciated fine sentiments that Vietnamese leaders offered to Cambodia, especially the late King and Queen Mother, as well as valuable support and assistance to Cambodian people in overthrowing the genocidal Pol Pot regime in the past and the current course of national construction and development.
The two sides were delighted at the development of the fine neighborliness, traditional friendship, comprehensive cooperation and long-term sustainability between Viet Nam and Cambodia in recent time.
King Norodom Sihamoni highly valued the two Governments' efforts in promoting comprehensive cooperation to bring practical benefits to the two nations and contribute to peace and prosperity in the region and ASEAN Community.
Prime Minister Pham affirmed that leaders and people of Viet Nam always treasure the profound sentiments and valuable support and assistance that late King Norodom Sihanouk, King Norodom Sihamoni, and generations of Cambodian leaders and people have reserved for Viet Nam in the past struggle for national liberation as well as the current cause of national construction and development.
Pham expressed his wish that King Norodom Sihamoni would continue supporting the fine development of the relationship between the two countries and creating favorable conditions for Vietnamese community to settle down and make positive contributions to the host society and the bilateral ties.
Pham also restated President Nguyen Xuan Phuc's invitation to King Norodom Sihamoni to visit Viet Nam next year. The King thanked and accepted the invitation.
The same day, Prime Minister Pham paid a courtesy call on Queen Mother Norodom Monineath Sihanouk at the Royal Palace./.