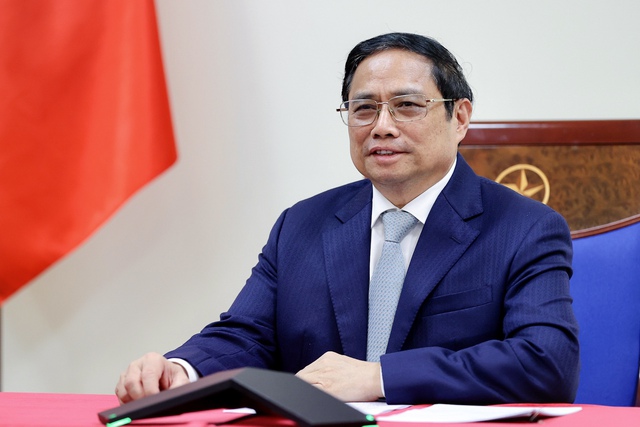 The Government chief conveyed greetings from Vietnamese Party General Secretary Nguyen Phu Trong, President Nguyen Xuan Phuc and Chairman of the National Assembly Vuong Dinh Hue to Prime Minister Elisabeth Borne and President Emmanuel Macron and other senior leaders of France, and welcome the upcoming official visit to Viet Nam by Speaker of the French Senate Gérard Larcher.

Once again, Pham congratulated Elisabeth Borne on her appointment as the Prime Minister of France, affirming Viet Nam attaches importance to the relationship with France.
He thanked the Government and people of France for gifting Viet Nam with 5.5 million doses of vaccines, contributing to help Viet Nam overcome the COVID-19 pandemic.
For her part, Elisabeth Borne congratulated Viet Nam on fast economic recovery and development and suggested both sides coordinate closely in deepening the strategic partnership throuhg delegation exchange and effective operation of their cooperation mechanisms.
She said France expects to foster cooperation with Viet Nam in such fields like digital economy, digital transformation, infrastructure development, and especially renewable energy.
Both sides held that economic cooperation is the pillar of the bilateral ties and agreed to work together on full and effective implementation of the EU-Viet Nam free trade agreements (EVFTA) which took place on August 1, 2020.
Pham urged France to soon ratify the EU-Viet Nam investment protection agreement (EVIPA) in a bid to boost investment into respective countries.
On regional and international issues of shared concern, the two sides vowed to continue close coordination and mutual support at regional and international forums.
They reaffirmed the importance of ensuring peace, stability, security, safety and freedom of navigation and aviation in the East Sea; settling disputes through peaceful measures in line with international law and the 1982 United Nations Convention on the Law of the Sea.
Pham took the occasion to invite Prime Minister Elisabeth Borne to visit Viet Nam and the latter accepted the invitation with pleasure/.