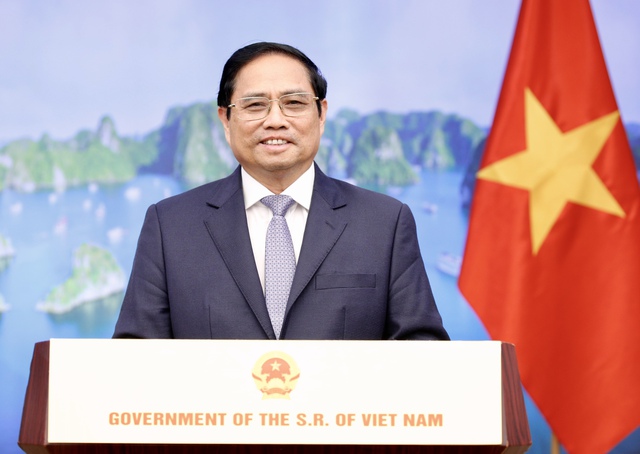 In his speech, Pham underlined the significance of the forum as it helps boost international cooperation, contributing to maintaining stability, cooperation and development in the Asia-Pacific region and the world.

The Government chief affirmed Viet Nam has been consistent with its policy of building an indepent and self-reliant economy while actively integrating into the international community.
The country has managed to effectively contained the COVID-19 pandemic and succeed in stabilizing macro-economy, controlling inflation, sustaining high growth, and promoting external relations, investment, trade, and tourism in favor of comprehensive recovery, Pham noted.
Also, Viet Nam has proactively participated in multilateral initiatives, including regional and inter-regional economic links through which the country would contribute to recovery and sustainable development in Asia-Pacific, he emphasized.
Regarding Viet Nam-Russia economic ties, Pham affirmed Viet Nam attaches importance to the comprehensive strategic partnership between the two countries.
He spoke highly of the outcomes of bilateral economic cooperation in recent years, particularly in such areas like energy and industry.
Viet Nam and Russia should step up in the sectors of their strength, make best use of and soon upgrade the free trade agreement between Viet Nam and the Eurasian Economic Union (EAEU), Pham suggested.
He welcomed economic connectivity between Russia, especially the Far East, and Asia-Pacific countries and voiced support for stronger ASEAN-Russia strategic partnership, adding that Viet Nam stands ready to act as bridge to foster cooperation between ASEAN and Russia, including the formulation of a free trade agreement between ASEAN and EAEU.
The Eastern Economic Forum was established by decree of the President of the Russian Federation Vladimir Putin in 2015 to support the economic development of Russia's Far East and to expand international cooperation in the Asia-Pacific region.
Under the theme of this year's forum – 'On the Path to a Multipolar World', Russian and foreign politicians and businessmen, experts and public figures will discuss a wide range of issues related to the prospects for intensifying trade, investment, scientific, and humanitarian cooperation.
It is important that commercial contracts and long-term agreements are expected to be signed during the Forum with the participation of business circles and the regional authorities./.